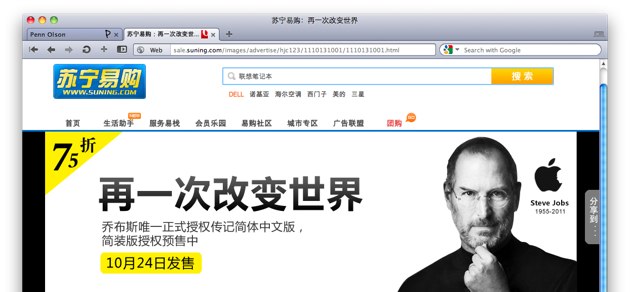 In most consumers' minds, Suning (SHE:002024) is still just a retail chain selling home appliances. In fact, it is not only China's second-largest 3C (home appliances, computers, communications) appliance High Street retailer, but it also has an e-commerce platform. And that will will expand later this month, after Suning executives announced officially that its online bookstore will open within the month. As a teaser, one book is already up for pre-order on the site: the Chinese version of the upcoming Steve Jobs: A Biography (pictured above).
According to Min Juan-qing, a senior manager at Suning Appliances, over 600,000 SKUs will be on the virtual shelves upon launch – a greater volume of stock that any competing B2C website. That might suggest that the company will leverage on its high-street operations for storage and infrastructure. Suning claims it'll be aiming at the higher-end of the market.
Although its e-bookstore sales targets are still unclear so far, Suning states that it will break into third-place in the B2C online book retailing market before the end of this year.
There's obviously a strategic significance to Suning's latest move. Having determined a long-term e-commerce development plan, Suning chose the book market as its first step in diversifying its online store. Industry insiders say that might be because of the relatively higher profits in online book sales – higher, indeed, than in the 3C appliances sector.
The online book-selling market in China is so fiercely contested that Dangdang (NYSE:DANG) and 360Buy seem perpetually locked in price wars and public spats over their tactics in this sector.
As a general consumer, accustomed to searching books on Dangdang.com or sometimes joyo.amazon.cn (the Amazon (NASDAQ:AMZN) joint-venture in China), I'm really curious about what we can expect from this newcomer to the online book scene. Competition always benefits consumers, so ultimately this should be good news for us.
[Source: Sina – blog post in Chinese]