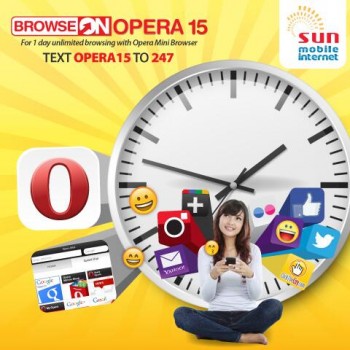 The number of people using the internet through mobile phones are growing in Asia. This is fuelled by more smartphone users in the region. However, in the Philippines, there are still more users of feature phones than smartphones. Philippine telco Sun Cellular wants to tap that sector. It has partnered with mobile browser Opera to allow users of data-enabled feature phones to also access the internet.
According to Opera, 85 percent of mobile users in the Philippines are still using feature phones. Despite this fact, Filipinos are huge users of the internet. As of June, Facebook users in the country already reached 30 million.
So this partnership between Sun Cellular and Opera brings low-cost internet access to both data-capable feature phone and smartphone users. The service, called Opera 15, will allow Sun Cellular users to access the internet through Opera Mini. Users can utilize this internet service for one day at Php 15 ($0.35). Prior to this partnership, the telco's internet bundle costs Php 25 ($0.58) for only three hours.
Opera Mini was very popular in the Philippines before the age of smartphones. Today, smartphone users have more browser options.  But considering the number of feature phone users in the country, Opera Mini remains a useful tool. To use it, subscribers simply have to log on to Sun Cellular's site through their mobile phones and download the software. After which, they must send the keyword "Opera15" to 247 via SMS to register the service.
However, there is a limitation. Anything done outside of the Opera browser will be hit with the usual charges. The regular internet rate is Php 5 ($0.12) for 15 minutes. Downloads through the browser are also limited to 15 MB per file. Any file which exceeds this limit will also incur regular charges.
Opera says its software is compatible with around 3,000 types of handsets. While this could be a remarkable service for feature phone users, they believe the service can also be beneficial for the smartphone market. Opera Software CEO Lars Boilseen says its compression technology makes it a faster option than other browsers.
Sun Cellular looks to provide this to its estimated 16 million subscribers on both prepaid and postpaid plans. This will benefit the prepaid subscribers more, as it's probably the lowest one-day unlimited internet service to be introduced in the country. Given the fact that Filipinos are inclined to getting 'sachet-type' services, this might even get the telco more subscribers.
(Editing by Paul Bischoff)