Today, Sumisho E-Commerce Indonesia, a joint venture between Japan-based Sumitomo Corporation and Sumitomo Indonesia, officially launched its Indonesian grocery e-commerce website Sukamart.com ("suka" means "like" in Indonesian). Sporting the tagline "less traffic jam, more quality time," the e-commerce site promises to save your time by providing delivery services for your groceries.
Sukamart has six main product categories: food, beverages, personal care, health products, baby care, and home and kitchen. The website boasts of over 1,000 products at the moment and promises to deliver your groceries in the space of two days for Jabodetabek (Jakarta, Bogor, Depok, Tangerang, Bekasi) residents. It can also deliver nationwide, but that may take more delivery time – up to seven days – and is quite expensive. All deliveries will be done by JNE services.
Users then can choose to make their payments using bank transfer from BCA, Mandiri, and BRI accounts. At the moment Sukamart offers a free delivery service for up to 5 kg of groceries in the Jabodetabek area until January 31st. The site supports English and Indonesian.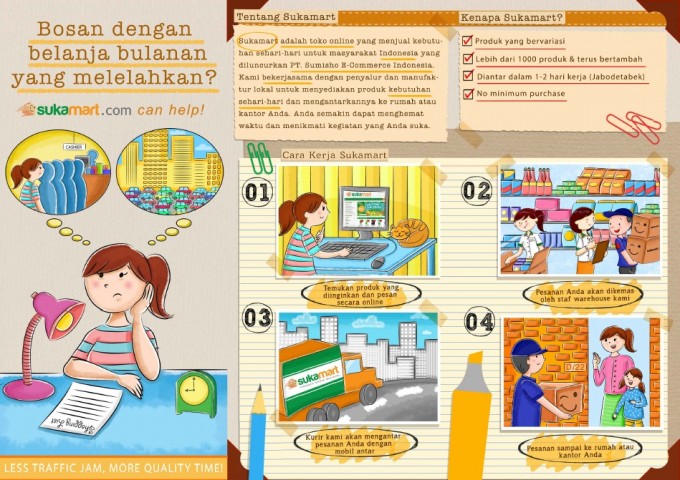 Briefly comparing the new site with Carrefour's Click and Drive, I found that Sukamart's site's products are generally a bit more expensive. But of course Sukamart also has some products that aren't available on Carrefour, and Carrefour doesn't offer delivery services yet and demands that customers pick up their own items. I'd say that Sukamart is an interesting option if you want to save time on grocery shopping, but I wouldn't recommend this just yet for those of you living outside the Jabodetabek area due to the aforementioned delivery charges there.
Sukamart plans to add more products – over 15,000 by the end of this year – and to build warehouses outside Jakarta to widen the delivery service outside the Jabodetabek area and make it more affordable too. Furthermore, Sukamart is going to offer a cash on delivery (COD) payment service starting this week. Payment methods like credit cards, internet banking, and other methods, will be supported in the near future.
It should be noted that Sumitomo Corporation has previously built two other grocery e-commerce sites in Japan and China. The one in Japan is Soukai.com, and the Shanghai-based service is PinStore.cn. The success of China's largest online groceries mall, Yihaodian.com, which is now largely owned by Walmart, shows that this can be a very lucrative sector.