Nine months after a soft launch at the end of last year, Dtac Watchever officially launched yesterday by Thai telco Dtac and Dreambase Interactive, an application developer startup based in Bangkok. Dtac Watchever is an app for online TV and movie streaming, but it works only for Dtac customers.
Online TV or movie streaming apps provided by telcos are not something new in Thailand. Actually, among the three leading telcos in Thailand (AIS, Dtac, and True), Dtac is actually the last to provide this service. AIS has its AIS Live TV and AIS Movie Store while True has its H TV.
Dtac Watchever's numbers
Considering Dtac entered the game pretty late, its numbers aren't too shabby. Since the soft launch, it's had over 300,000 downloads and 120,000 active users per month. Pakorn Pannachet, Dtac's VP of marketing, expects to see the number get up to 600,000 downloads with 250,000 – 300,000 active users per month by the end of the year.
During the past nine months after the soft launch, the combined number of movies and TV shows watched was over 350,000. The app was one of the top 30 apps with the highest download numbers on Google Play and it made the Apple Store top 10 list the first week after it was introduced to the public.
This application allows users to watch content from 29 of Dtac's partners. Pakorn told us:
We will be focusing more on bringing better content. That's the key to retaining customers. The goal is to add more series from the US such as CSI or other famous series and also adding more cartoon for the younger audience.
As of right now, Dtac Watchever has over 40 live TV channels, 2,000 movies both from Thai and international content developers, more than 10 documentaries and cartoons, and also more than 500 episodes of the international series. These can all be live streamed using Dtac network phones. (The app is not available for offline viewing).
App stability
Chatchai Tangjittrong, CEO of Dreambase Interactive, explained that because all of the content is stored within the company's servers, the company guarantees that this way is faster than streaming from content developers' sources from around the world. He added:
We once had 50,000 people online streaming at once and our server could take it. There was no problem. The average speed is 200 Kbps for featured phones and 500-600 Kbps for smartphones. Most of the users who watch movies use wifi while those who stream live TV normally stream it through 3G network.
Beyond streaming
Dtac Watchever also offers a Social TV feature, which is basically a second screen function. Social TV allows users to share and chat with friends in chat rooms within the app. This function is similar to what Chatterbox does.
In addition, there's also a My Schedule function that will alert users before their favorite shows air live to make sure they don't miss anything.
Dtac Watchever is available on iOS and Android.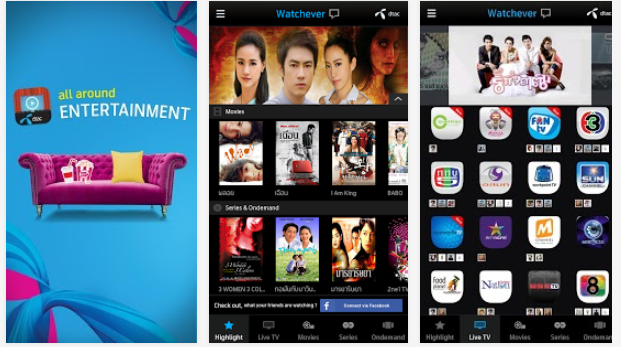 (Editing by Charlie Custer and Anh-Minh Do)