There are already quite a few TV streaming portals in Indonesia, but the list gets much thinner when we look at the ones that also offer video-on-demand services in the country. Here are three local players that let you stream box office movies in Indonesia: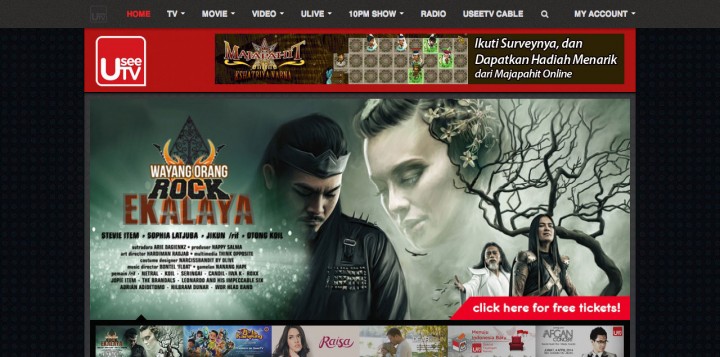 UseeTV offers various streaming content like local TV channels, movies, videos, live performances, and radio. Most of them – like watching popular local TV shows from the last seven days – are free, but users need to pay if they want to watch certain movies.
UseeTV offers two payment options: carrier billing using a Telkomsel number or monthly billing for Telkomsel's Halo and Telkom Speedy's broadband users. The price is very affordable: IDR 10,000 (US$0.86) per month for premium movies or IDR 3,500 (US$0.30) for one new movie for two days. UseeTV's cable TV subsribers obviously get it for free.
Indonesia's largest information and communication company Telkom (Indonesia:TLKM) is the one behind UseeTV's creation. Telkom's previous IPTV product called GrooviaLite rebranded to become UseeTV in August 2012. UseeTV currently has 1.3 million registered users and records about 35 million pageviews every month. The team is hoping to bolster its userbase up to 4 million by the end of this year.
UseeTV can be accessed via dekstop browser and on Android 1, Windows Phone, and BlackBerry 10 mobile apps.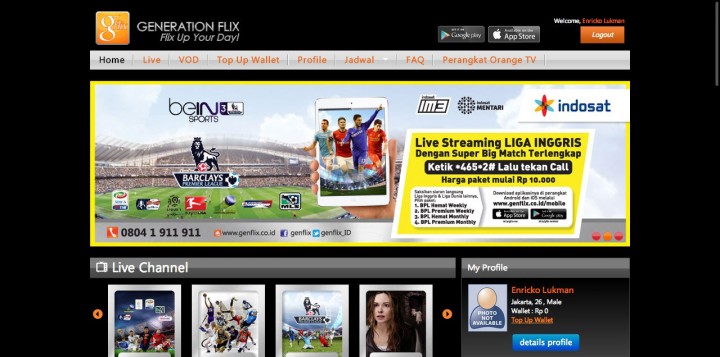 Genflix offers streaming services for cable TV channels and video-on-demand in Indonesia. Powered by sister company Orange TV, people can browse a vast offering of football shows like Barclays Premier League, FA Cup, and FIFA World Cup Qualifier South America and Europe.
There are many ways to pay for Genflix: bank transfer, credit cards, Doku Wallet, Indosat and Smartfren carrier billing, Sevelin voucher, and Telkom Speedy monthly billing. Users can subscribe to Genflix's sport channels for IDR 49,000 (US$4.30) per month or get unlimited monthly access for IDR 69,000 (US$6). Some video-on-demand is sold separately from the unlimited access package.
Genflix is available on dekstop browser, iOS, and Android.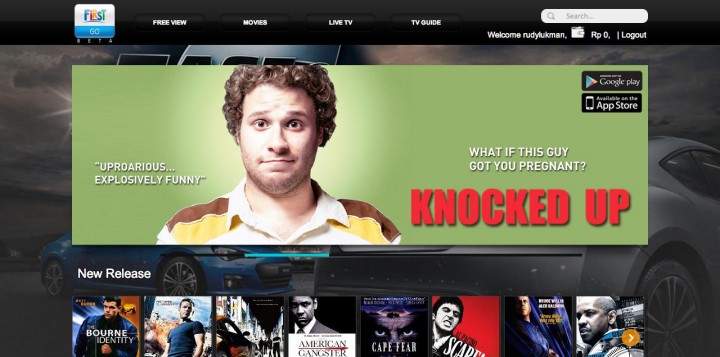 Launched last week, this is the newest player on the block for video streaming services in Indonesia. But its parent company – broadband internet and cable TV provider First Media (Indonesia:KBLV) – is not one to take lightly.
First Media Go offers streaming services for movies and TV channels. A few cable TV channels like Nat Geo Wild and MTV are available for free.
Users need to register to access the free streaming content. First Media cable TV subscribers can access the premium channels they have paid to see on regular cable. First Media currently has about 300,000 cable TV subscribers.
First Media Go is available on desktop browser, Android, and iOS.
(Featured photo from USeeTV's Facebook)
(Editing by Paul Bischoff)
---
The Android app doesn't seem to be fully functional though as we can't get it to stream anything. The Android app is working fine.↩