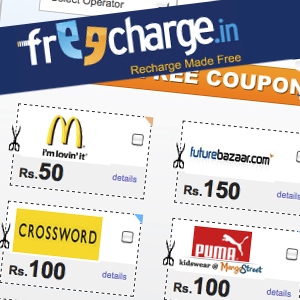 FreeCharge was founded on August 2010 by Kunal Shah and Sandeep Tandon. The service allows users to top-up their mobile phones for "free" – basically, every mobile top-up done on FreeCharge is reimbursed with discount coupons for top Indian food joints and retailers, equivalent to the recharge amount. These coupons are delivered to the user. It got $4 million in funding from Sequoia Capital in January 2012.
Deap Ubhi, the COO of FreeCharge, shares his take on the business:
We are an innovative advertising platform, where marketers can touch our audience by positioning their brands, products and services in the form of a reward. Today, that means that most of the pan-Indian retailers are offering their coupons to our customers to raise awareness and drive footfalls.
An early e-commerce success
Kunal's last business was a retail cash-back rebate campaign management business for large retailers in India. He worked very closely with mobile handset retailers, and came up with the concept of giving mobile credits as a form of cash-back instead of pure cash rebates. He eventually decided that this would be a fantastic win-win-win agnostic business proposition if it were spun off independently – and thus FreeCharge was born.
FreeCharge, based in Mumbai and Bangalore, now has over two million active customers on FreeCharge, who contribute to over 50,000 successful daily transactions per day – and these are pure B2C online transactions.
Turning points
FreeCharge's initial days of no-cost driven growth was the first big turning point for the company. When the competition and general e-commerce landscape was over-investing in inorganic growth, Deap explains that they were focused on the organic ways of marketing instead – such as ground-up Facebook campaigns and offline college campus marketing.
The second inflection point came about nine months ago when FreeCharge's technology platform needed a big overhaul, and they made the strategic decision to grow their product and technological organizations from Bangalore, where such talent was more abundant.
Looking into ads
FreeCharge generates revenue like a lead generation platform would by distributing unique coupons. Ancillary revenue streams include small handling fees made from customers, as well as the last-mile margins they get from telcos for reselling top-ups. Deap reveals that they are also looking to push out a proprietary ad serving engine in the near future, which behaviorally targets smart rewards to those customers that are most likely to opt for them. He also reveals that they will also be launching in-transaction rewards soon, and many of the country's leading marketers have signed up to pilot the feature.
FreeCharge looks to data to shape its future. Deap tells me:
Most of of FreeCharge's strategic decisions are rooted in data, in pattern recognition amongst data sets. Beyond that, FreeCharge also empowers everyone in the organization to challenge one another, challenge the status quo, and to encourage people to rock the boat. Thinking big is a cultural mindset we try to permeate in the organization from the top down, and it tends to evoke amazing problem solving capabilities within our team.
Success in India
Like many other developing economies, India's middle class is expanding, consumerism is on the rise, and organized retail footprints are exponentially expanding. The society is extremely value conscious, and over 95 percent of one billion mobile connections are on a prepaid plan. This cocktail of changing demographics, socio-economic evolution, and mobile-first communication in India created a perfect environment for an idea like FreeCharge to flourish.
While FreeCharge does have plans to move into the postpaid realm, they will continue to focus on the largely prevalent prepaid culture in India. Deap tells us more about why prepaid plans are preferred:
Today, the prepaid culture is probably driven both by the supply side and the demand side; customers prefer prepaid connections because they are price sensitive and not loyal to any one carrier, it gives them more predictability to manage their expenses, and it also gives them a certain degree of privacy – no bills are involved.

On the supply side, the lack of a holistic and expansive credit rating system makes postpaid connections a potentially large receivables liability for any and all carriers.
Partnering with big brands
A lot of FreeCharge's success can also be attributed to their ability to get the big boys on board – thus, coupons that users would actually find useful. According to Deap, there are three factors that help in successful partnerships. First, that FreeCharge is the biggest and most popular online recharge platform in the country. Second, that their value proposition is very customer-centric; they understand the expanding middle class consumer in India better than their competition, and make sure their model and brands on board appeal to them. Third, that FreeCharge was the first to innovate and marry something as fun and engaging as coupons and rewards with something as routine as a bill payment or a mobile topup.
Copycats
Though FreeCharge's presence has inspired many copycats in the region, they are not too worried about them. Deap reveals that they have eyes on a greater prize.
We want to disrupt the way people think about paying their bills and doing their top-ups. That means that we're competing with every small little storefront, every ATM machine in the country. We've got our eyes on a much larger prize. We respect our peers and certainly keep a tab on them, but our aim is to shift consumer behavior here, not to convince someone to switch from one website to another.
Uniquely Indian, or a scalable model?
FreeCharge believes that there are many other expanding economies around the world that are equally value conscious where customers would love to get rewarded for their routine transactions. Such markets are Brazil and across Latin America, China, the Middle East, Africa, Russia, and of course Southeast Asia.
"Prepaid is just the beginning," says Deap. "We will cover the full gamut of postpaid bill payments and top-up payments – utilities, public transportation, toll passes, etc. Imagine being able to do all of your routine transactions from one beautiful application, and getting handsomely rewarded in the process.
FreeCharge's future plans include expansion into the Southeast Asian region and the BRIC economies, but nothing concrete can be revealed quite yet.