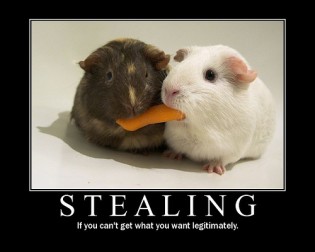 Local companies are finally taking copyright seriously in Vietnam. Probably because they're now realizing the value of stolen material. The online-only news site Bao Moi, run by media firm ePi, is getting sued by Petro Times, a local newspaper, for copying over 10,000 articles onto the site. The paper is seeking damages of up to VND 500 million (US$25,000).
Bao Moi is basically a news portal that ports news from other sources, which is rumored to be invested in by VNG. It takes news from websites like Petro Times, VnExpress, Dan Tri, and Nang Luong Moi and pushes them to users. News articles put there without formal, written consent from any of the papers. According to the director of ePi, Nguyen Anh Tuan, it is similar to Google News, which also filters in news from multiple sources. He contends that the lawsuit is "unreasonable" because of the nature of the site as a portal rather than a newspaper. I contend that he was lazy not to coordinate with local news sites, and that he's grabbing content from them. Especially since his site has been around since before January 2012, when they officially got a business license to operate. Basically, he's waffling.
Besides that, the entire controversy is an educational moment not only for old-school newspapers to realize how the internet works, but also for content-producing startups to realize how traditional newspapers work. It all comes down to this: the big newspapers like Petro Times are losing advertising dollars and clicks, despite having their own sites.. They feel threatened. Bao Moi is simply better at getting their news to users. If Bao Moi was a small-time player, this perhaps wouldn't be an issue.
But this isn't an isolated issue. It brings up serious concerns in Vietnamese journalism, where copying other peoples' work is absolutely rampant. It is common practice among online news sites, large and small, to copy articles and not give credit or even hide the credit deep in the article. Most sites don't even link directly to articles. At least Bao Moi does accreditation better than other sites, even citing emails from specific journalists. Unfortunately they didn't do their due diligence.
The irony for me is Vietnamese journalism itself is already pretty corrupt. It's a place where journalists won't write an article unless they get paid to do it by the people who want them to write. And on top of that, many of my friends who have been interviewed by newspapers or news sites have complained of being misquoted. Thus, they overwhelmingly prefer television, which can't so easily be misinterpreted or misquoted. So guess what? Lazily stealing lazy news is still stealing.
Of course, the lawsuit also brings up still unresolved copyright issues. VNG, one of Vietnam's biggest technology companies, last year saw Coca-Cola and Samsung pull out of advertising on its social media platform, Zing, because of its unlicensed music downloads. With Bao Moi feeling the burn of copied content, this might make other content producers think twice before grabbing content from elsewhere. And finally questioning the nature of their copying. Are we on the verge of seeing a Vietnam that enforces patents and copyrights? This could only be a good thing for a developing country that wants to innovate.
But it ultimately raises the question of how can and should content be moved around the internet? Vietnam's online space is sprawling with forums and user-generated content. Facebook, which may have over 20 million users soon, is one of the main sources for netizens to access news content. And Facebook's grabbing all those advertising dollars too, but no one is suing them. This one issue raises countless concerns over how Vietnamese courts determine the dissemination of news content.