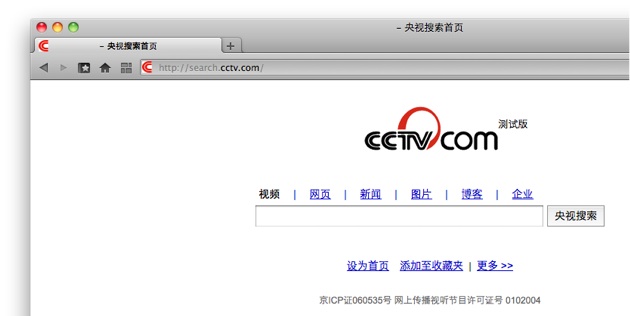 The prolonged investigations by state-run television, CCTV, into China's biggest search engine, Baidu, look suspicious to some observers in the tech industry. Privately, some fear that the reporting is actually aimed at bolstering several state-backed search engines, such as Jike, Panguso, and – well, look at this – CCTV's own brand-new search engine, at search.cctv.com. Conflict of interest there, perhaps?
The government has full control over the way content is listed on those three search engines. Although Baidu – and all other media companies operating in China – abide by local laws, and do not show prohibited content – be it 'adult' or politically critical – it's notable that Beijing authorities don't have as much direct influence on the web as they do in print or TV. And that's perhaps where CCTV's effort, Jike, and Panguso come in.
CCTV Search (pictured above) launched very sneakily in recent weeks, and went unnoticed by most people. The other two were a lot more high profile when they went online. Panguso is a collaboration between China Mobile (state-owned) and the official government news agency Xinhua, which launched in February of this year. Jike is run by the government's People's Daily newspaper; when it launched in June, a handful of China's web lumiaries were on hand to help, including Sina's CEO Charles Chao, and Baidu's chief scientist William Zhang. Yes, that's the way things work here – if the government orders you to piss in your own milkshake, that's what you do.
CCTV Search, Panguso, and Jike all have a microscopic share of China's search engine market – so tiny that none of them have ever registered in any measurements. Last time we looked, just last month, Baidu had rocketed to a user share of 76 percent, while Google had dropped to 19. The smallest cataloged market shares in China belonged to Tencent's Soso.com search engine, with 0.85 percent, and Netease's Youdao.com with 0.31.
---
Divide and Rule?
---
CCTV's primetime attacks on Baidu started out with an exposé on alleged irregularities in its promoted search results, which CCTV claim can be easily manipulated by fraudulent sites. And while that has some consumerist value, the attacks continued for much of the week, and spread to critiques of Baidu's very popular social discussion portal, Tieba, which is the closest thing Baidu has to a social media success. Baidu's stock (NASDAQ:BIDU) opened down on Tuesday and again yesterday.
CCTV has even launched a minisite for its Baidu reports which has a huge banner reading "Baidu's Dodgy Promoted Search Results" and is encouraging people to use that phrase as a hashtag on CCTV's own microblogging service at t.cntv.cn.
On a similar note, we reported yesterday on state-run newspaper People's Daily slamming the dating site Jiayuan for apparently enabling casual sex among its users.
This is where some people in the industry fear that the Baidu coverage has crossed from being consumer-oriented reportage to the realms of a politically-motivated attempt at new regulation in the search engine market.
Baidu has maintained its silence all week, with no official comment.
---
I'm sorry, Dave. I'm afraid I can't do that.
---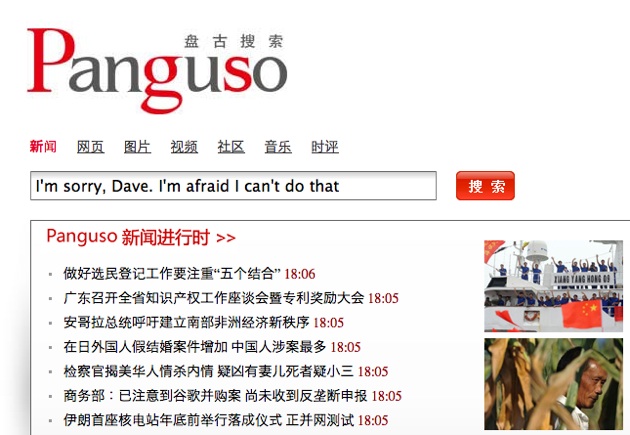 So, what can't you search for on China's state-run search engines? In theory they should work no differently than Baidu, or Bing, which also operate within China's media laws – but in practice they're very different, and a lot more limited.
Searching for a sensitive political phrase or name on Panguso.com (pictured above) or Search.CCTV.com causes a panicky 404 error. Jike.com made an effort to find answers, but it prioritized links to government-run sites, such as the People's Daily. Baidu at least delivers a proper variety of links to private-sector sites (which all, of course, self-censor anyway as part of the media laws).
The three state-run search engines are a bit more chilled, however, about sexy imagery (see screenshot in middle of the page) – though nude is illegal here – and offer up a small but sort of relevant set of images for any racier search queries.
Don't forget that the state is also very concerned about online mapping, with the release of TianDiTu.cn last October in an attempt to counter the popularity of Google Maps in China. Looking at that site again today it doesn't seem to have improved at all since its first month online, and still features the same obnoxious and pointless introductory splash-screen.
If state TV's attacks on Baidu are related to greater regulatory pressure in the coming months, then authorities need to realise that users will adopt that which works best, not what they're coerced into using. If there is still a proper open market in this sector, then users can decide. And they've decided so far to ignore Jike, Panguso, and CCTV Search en masse. Right now, compared to Baidu, Google, or Bing, the search results on these state-run sites – to use a scientific term – suuuuuuuuuuuuuuuck.
So, there it is. Hit the comments to let us know what you make of all this. Just some harmless consumer reporting on a major corporation, or an inkling of something more sinister?