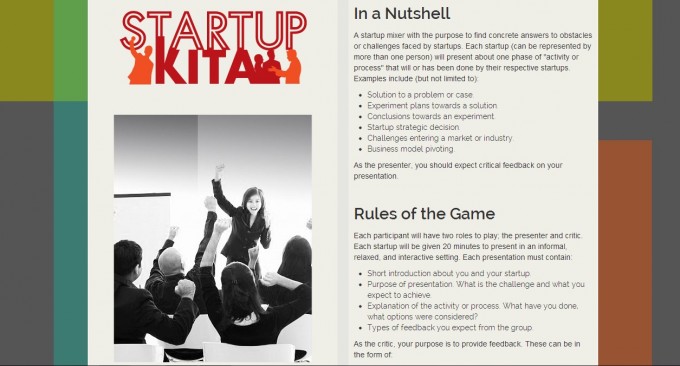 Although IT is one of the hottest industries in Indonesia, there are a lot of challenges posed within that field. So much so that even SalingSilang, one of the most well known startups in the country, decided to close up shop last week. To help overcome those challenges, Indonesian entrepreneur Sanny Gaddafi (whose businesses include social networks 8villages, SixReps, and FUPEI) together with Api Perdana (the co-founder of Indonesian financial helper NgaturDuit) built a forum where startup leaders can find solutions to their business problems. It's called StartupKita (Kita means "our" in English).
StartupKita is a free monthly forum where four to five selected startups will join based on the application form, the topic they want to discuss, experts they'd like to invite, and those who they do not want to be present. The startups, represented by its leaders, will then discuss real startup issues and challenges they've encountered in running their business and receive feedback from the participants there. Api said that the vision is to solve real business challenges, like breaking to a certain industry, or tweaking a business model.
Due to the sensitive issues discussed, the forum will be a closed one, and parties will be expected to keep information shared in the forum confidential.
We spoke with Api to find out a little more about StartupKita:
Sanny and I felt that there wasn't really any place where startup founders could share their troubles and challenges. Every other sharing event had general topics. We wanted to try and solve REAL business challenges that startups face in the real world, not just theoretical ones. We found that as founders, we would hang out and share our experiences with other founders in a non-formal environment over coffee, sports, etc. As these discussions are usually held among close friends, the quality of feedback and discussions is also limited. So we tried to think of a format for how we could do this and as you can see from the event description and rules, this what we came up with.

We are also trying to setup affiliations through our networks in several other countries too as I am sure these affiliations would be valuable for startups that want to cross national borders.
To register for StartupKita and find out further information about it, you can check out its website here.