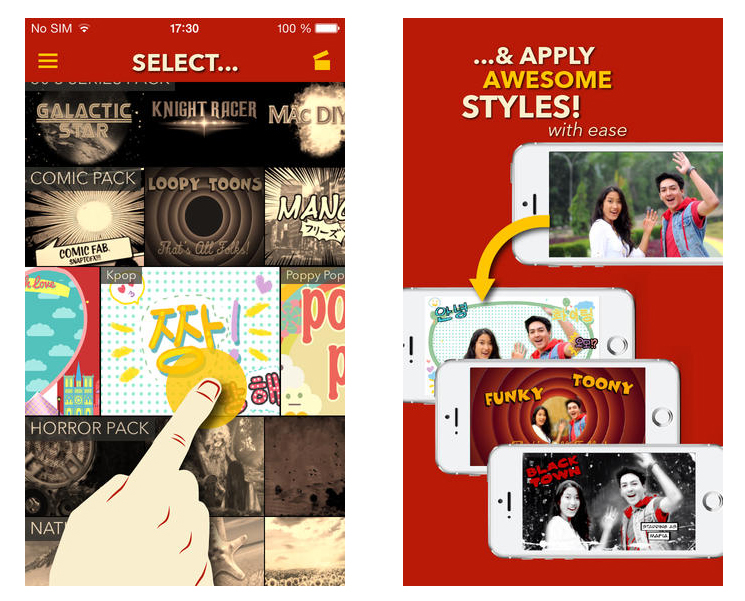 Is there such a thing as doing a startup the 'Asian way'? If you're Ali Kurtze, the Singapore-based founder of startup Basilo Labs which just launched its video effects app Snapclip, it's a resounding yes.
Doing a startup in Asia – and we're using that term broadly, while excluding the market-specific quirks of places like China and India – brings constraints. The venture capital industry is tiny, and investors are revenue-first rather than growth-oriented. This means founders are forced to think about their revenue models early, instead of entering the VC circus with a minimum viable product and playing investors off one another.
Snapclip, therefore, has to become a totally different beast from western competitors like Replay, Flipagram, Magisto, and Animoto.
Instead of catering only to consumers, the app is designed as a marketing vehicle for brands. In essence, it will make money from selling premium video effects as well as branded content.
With the football World Cup coming, users could conceivably create a video of themselves supporting their favorite team, replete with Brazil-themed effects and their names on a jersey.
Brands could find such marketing method novel since they can now get consumers in places previously thought uncrackable.
"This is advertising for generation chat," says Kurtze, a former web developer. "The problem with chat apps now is that they are doors without a knob. Brands can't advertise on chat, and users don't want to see ads."
By creating branded content that consumers will actually want to use, Kurtze hopes to lessen the divide between advertisers and users. It's kinda like how chat apps Line and WeChat are selling branded stickers to fans who will actually pay for them.
Meanwhile, on the consumer side of the equation, Snapclip provides professional-quality video effects with little effort; users just need to splice and cut footage to their desired length.
There's also a third element to this business: creatives can create their own effects using Photoshop and AfterEffects, then sell them through Snapclip.
Snapclip has a few not-so-obvious advantages against similar products: the app saves bandwidth by limiting videos to 12 seconds, and that's godsend for mobile users on postpaid plans with a data cap.
Snapclip also does all the effects rendering in-app, while other services do it in the cloud. That saves a lot of data when uploading and downloading the video.
Finally, Kurtze claims his in-house design team can push themes out from concept to finished product within the same day – a boon for advertisers who want to roll things out fast.
Early bird in Indonesia
Available in the Apple App Store starting today for the iPhone 5 and 5s, Snapclip is not the first product made by Kurtze and his team – it is actually the next iteration of an earlier video editing app. Kurtze also created a multiplayer mobile poker card game called Big Dai Di, and he plans to return to it in the future.
Basilo Labs recently raised a seed round of US$50,000 for ten percent equity from angel investors Virginia Cha and Charles Kathrein Jr, and they're now looking to raise a larger round of US$500,000.
While running a consumer startup in Southeast Asia has its challenges, it's not all gloom. Sure, investors in the region are more risk-averse, but the bar for getting investors is lower since there's less competition among consumer apps for users and attention.
Kurtze also benefited from seeking developer talent in Indonesia early, and in unconventional places like Bandung, which is 180km south of capital city Jakarta.
He has been engaging freelance developers there since 2009, first giving them small bits of a project at a beginning before handing over the keys to the car.
Although Basilo Labs is based in Singapore, it has a team in Indonesia which could scale to 20 members by this year. The engineers there cost only a fraction of equivalent personnel in Singapore or the United States.
See: 10 questions to ask before outsourcing work at your startup
Startups that now want to hire talent from the country, however, may not find it as easy as in 2009. Kurtze says:
Indonesia has been developing rapidly in the last four years. In 2010 I had people queuing outside my office. They had no jobs and were hungry for work.
Now, developers in Indonesia have "opened their eyes". There are a lot more tech entrepreneurs and startups in Indonesia, with many programmers leaving companies to start their own app and game development houses.
"The entire game has changed. I was lucky I came here early," he says.