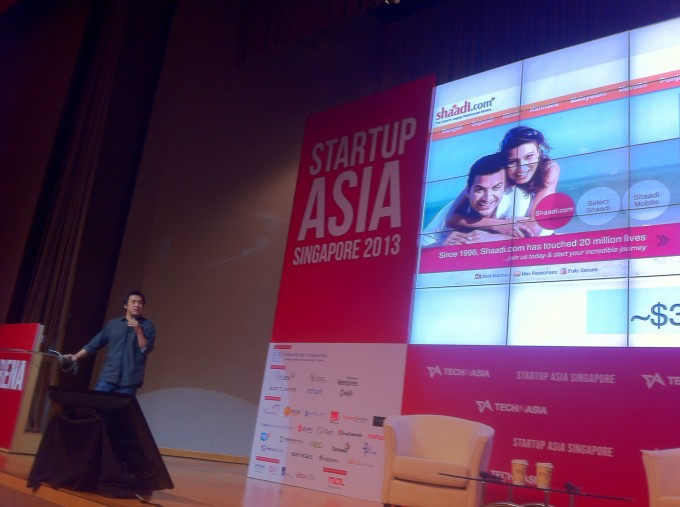 Singapore's Darius Cheung is the first to be interviewed onstage at our Startup Asia event. Having founded and exited WaveSecure, and now running BillPin, he has lots of experience and insight to share. (His biggest recent news is BillPin acquiring its larger US rival BillMonk).
So, what are the opportunities in Southeast Asia? Darius reckons that both Southeast Asia and Latin America – with 600 million people each area – are places to watch.
#10:07: In terms of opportunities, he calls on people to make global connections that haven't been though of before – like making Korean TV dramas accessible in Arabic to people across the Middle East. That's what Viki has done. It's a "cultural blindspot" where businesses can make a big leap. Darius also credits the likes of Line, Cubie, and locally-made messaging apps for thinking carefully about what SEA users want – an emphasis on visuals and voice in a region where typing is not so popular. Shaadi.com is another good cultural example – a dating site where parents take the lead in arranging matches for their kids.
#09:49: Like with Estonia-made Skype, Singapore could make global web brands.
#09:51: Ultimately, growth is why expansion is needed. The US, he says, sees an average of $1,100 in annual e-commerce spending, while Singaporeans spend about $250 per year.
#09:52: China, too, shows how huge growth exists in neighboring areas. It took China a lot less time to grow its e-commerce sector compared to the US. And now Indonesia is at the beginnings. Indonesia's e-shopping sector was only worth $1 billion in 2012, but it can grow quickly from here. Darius points out that arriving early in a sector, and growing "slow and conservative", can be a great strategy.
#09:56: Having given a presentation on this issue, now our blogger Vanessa Tan is going to fire questions at Darius.
#10:00: Can Darius reveal how much BillPin paid for BillMonk? Nope. But he says that they negotiated with the Indian BillMonk team over the deal. And as he told us last night, it was a great deal. They'll now focus on customer service as all the BillMonk users get ported over to the BillPin service.
#10:02: Darius credits Singapore with having great talent. So much so that he wouldn't consider moving his business to Silicon Valley, as it's actually easier to hire around here.
#10:03: With so much income disparity in Asia, how to deal with that in the online business in SEA? Darius says that "alternative monetization" methods can still work well on services that rely on feature phones.
#10:05: Darius: "I'd love to see a billion dollar [web] company come out of Singapore." But something like Facebook could only come out of the US, thanks to things like a large domestic market – in its initial focus on US campuses. But it can happen in the region, like Mig33. "But hard to see global dominance from those," he admits.
#10:08: Why is it better to build a team in Singapore? Darius says it's cheaper, so there's less of a burn rate. Plus workers are more loyal, with fewer big names trying to poach your staff.
---
This is a part of our coverage of Startup Asia Singapore 2013, our event running on April 4 and 5. For all our newest Startup Arena pitches, see here. You can follow along on Twitter at @techinasia, and on our Facebook page.