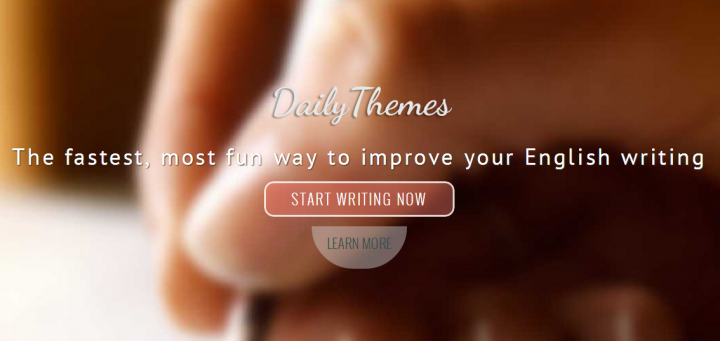 The best way to learn to write is to write, but a little coaching never hurts either. That's the premise behind Shanghai-based startup Daily Themes.
Daily Themes was founded by three Yale graduates – all from different countries – to help non-native English speakers learn to write better. It accomplishes this by encouraging users to write short daily blog posts about whatever they want. If the user can't find inspiration, Daily Themes offers prompts to overcome writer's block.
The six-month-old Chinaccelerator participant already has 10,000 active users, 45 percent of whom are in China. Daily Themes encourages diary-style writing to make the process more fun. Each time a user submits a post, the site's real-time analytics kick in to give the author some data insights that can help improve his or her prose. This includes suggesting synonyms for words that are repeated too often and breaking down sentences that are too long.
Up to this point, the service is free, but paid members can get personal feedback from externally validated experts who are hired based on Cambridge University standards. These professional writers make in-line annotations and leave comments to help the writer improve faster. The feedback comes back within one day after the user submits a piece.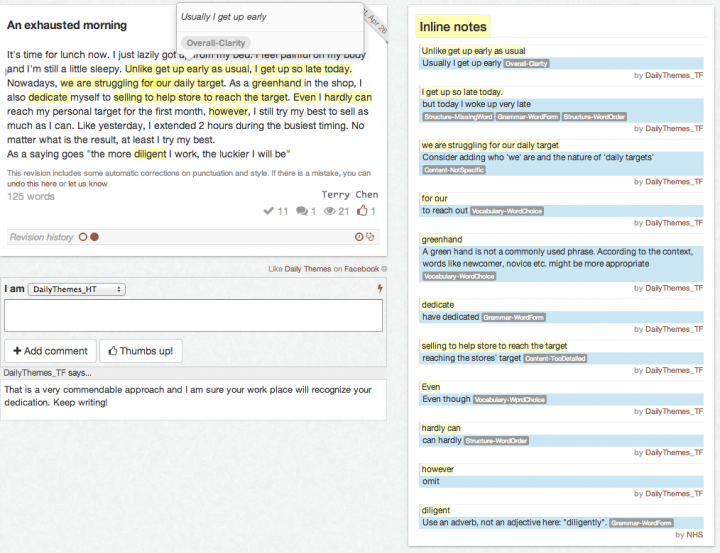 Co-founder Hassan Siddiq, who hails from Pakistan, says it takes at least three months before users start seeing noticeable improvement. When questioned about whether this service could be used to polish medical, legal, or school papers, Siddiq emphasized the focus will remain on improvement of a person's journal-style writing.
"I would call that stuff proofreading, not learning to write," he says. "There's a difference between those two things."
See: The number one thing Vietnamese startups need to learn in 2014: English
China alone has 300 million English-as-a-second-language learners, so the sky's the limit for Daily Themes. Not to mention the rest of the world – Siddiq notes the second largest user-base comes from Italy.
The internet is full of proofreading and writing analysis services like Hemingway App, but Siddiq says Daily Themes fills a niche in high demand. "There's no current web equivalent," he says. "If you are serious about developing this skill while having fun, then Daily Themes is a much more appropriate product."
At the Global Mobile Internet Conference in Beijing earlier this week, Siddiq entered a pitch competition in which he was the only foreigner on stage. Daily Themes earned one of just two prizes out of nearly a dozen startups that pitched. Neil Shen, the founder of Ctrip (NASDAQ:CTRP) and head of Sequoia Capital in China, agreed to recommend Daily Themes to investors and potential partners. We'll see in the coming weeks if this is the boost Daily Themes needs to become the number one online writing improvement service in the world.