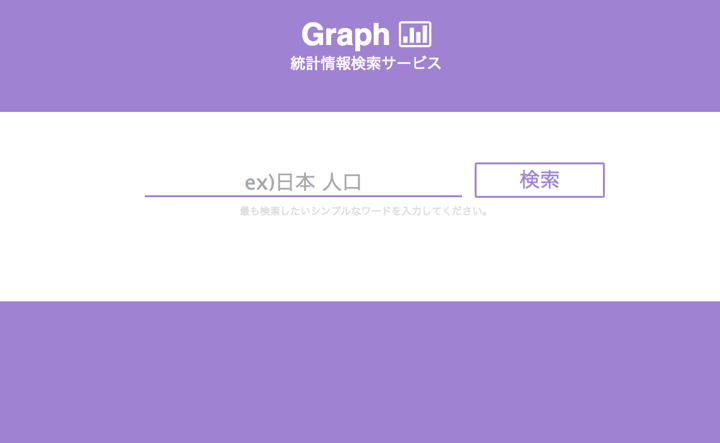 Before the internet, searching for statistical data meant a trip to the local library and hours of digging through printed data, all just to find something as simple as university rankings or the population of your city. Now, access to that kind of information is only a click away – or so it seems. Unfortunately, as anyone who's written a term paper is certainly aware, the numbers returned by a Google search aren't always accurate or even recent.
Graph, a new service created by Tokyo-based startup The Coco, hopes to fix that by going straight to the source – governments and corporations. Type a search term and Graph instantly generates – you guessed it – a graph (the user can choose between pie, bar, line, and dot graphs) with selectable timeframes and parameters.
Want to know the population of Japan? Graph will give you a range from 1935 until the most recent census in 2013. Hovering your mouse over an individual bar reveals the exact number for that year, the date it was published, and the source (in this case, the Statistics Bureau of the Ministry of Internal Affairs and Communications). A sidebar allows you to break the numbers down by age, sex, and prefecture. A search for annual family budgets, on the other hand, can be broken down by actual products and services, i.e. how much families spend each year on rice or education.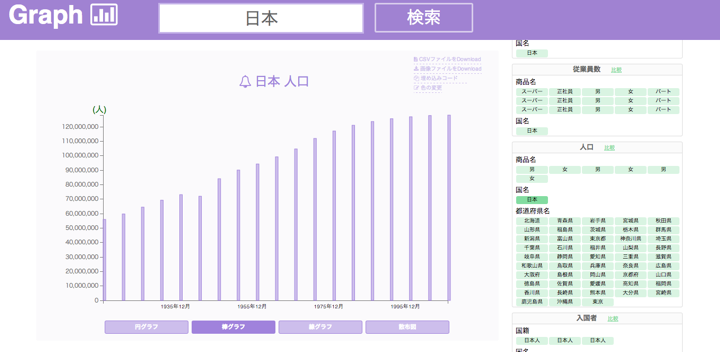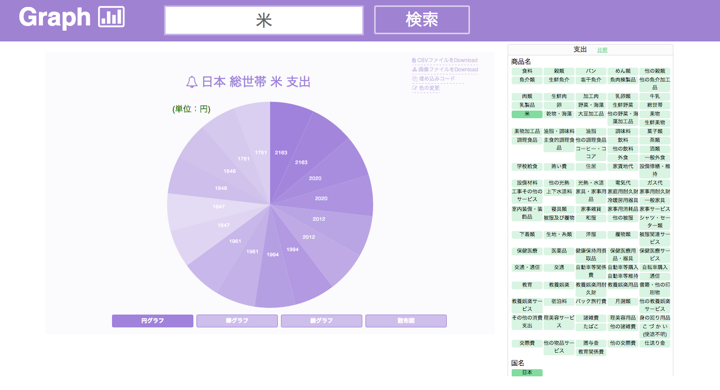 "I want to make the internet more credible," Shunsuke Takahashi, founder, lead developer, and CEO of The Coco says. "Why is it so hard to believe the information on the internet? You hear opinions, but not necessarily concrete statistics. Like someone writes, 'This university is good,' but there's no data on how many students quit or transfer each year. For things like restaurant reviews, opinion is good. But for a life event, like choosing which school to attend or where to live – you need concrete information to think about."
Takahashi recently graduated from startup accelerator Movida Japan's fifth batch, which provided him with 5 million yen (US$49,000) to get the ball rolling. The 23-year-old entrepreneur dropped out of Japan's prestigious Keio University, where he had been a physics major, to pursue Graph full time.
Physics explains all of the things happening in the world in a logical way. I still love physics, but sometimes it takes a lifetime to explain the smallest thing. When I was a student, seeing companies like Facebook, I realized that a good business can also change the world – and much faster.
Growing Graph and getting people to pay for it
Graph is Japan-specific at the moment, with current data sourced entirely from the Japanese government, but Takahashi hopes to push the service globally while beefing it up with corporate and social figures. Once governments are on board with sharing their statistics, Takahashi says that he will monetize the service by charging users to download graph files.
"Then we'd consider doing limited ventures with big companies," adds Takahashi. "We could essentially buy the data from them. Our biggest challenge, at this point, is marketing."
One revenue sharing outlet could be targeted ads. If someone wants to know how many Japanese citizens live in Thailand, for example, Takahashi explains that advertisements for cheap airfare to Bangkok could be placed somewhere on the screen.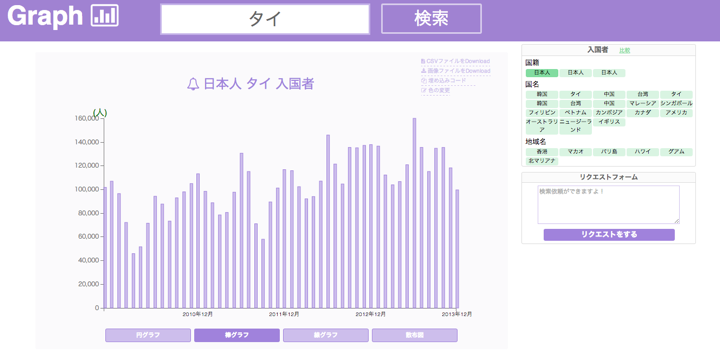 A beta version of Graph went live last month, but Takahashi decided to shut it down until he could incorporate a greater amount of searchable data. He's since designed a way of automating the collection of government statistics and will re-launch the site by the end of this month.
See: This English conversation app says no to video and focuses entirely on text chat
"I've already collected a lot of government information, now all I need to do is upgrade the database and servers," Takahashi adds.
At present, Graph consists of Takahashi (pictured below, left), his head of marketing, and two interns. Takahashi hopes to raise around 30 million yen (US$295,000) for the startup's series A round and is currently fundraising.