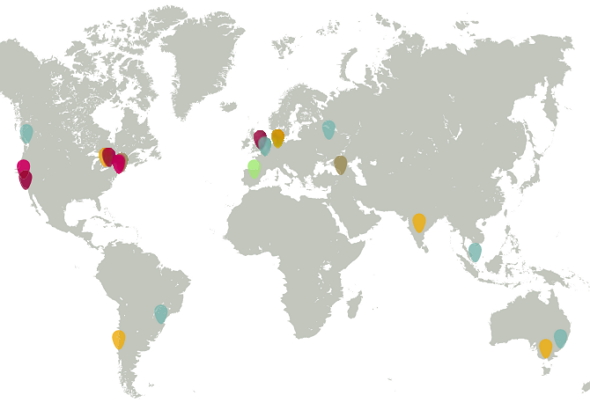 The Startup Genome, a company that aims to transform tech entrepreneurship from a gut-driven into a data-driven endeavor, has today released its global ranking of top 20 startup ecosystems in a research report. Representing Asia is Singapore (17th) and Bangalore (19th), who are the the only ecosystems from Asia in the top 20. Australia fared well, with Sydney (12th) and Melbourne (18th) making the shortlist.
This version of the rankings is updated from the one that was released in April this year, which included less variables and didn't account for population size.
But just like the last report, the lack of Asian representation is glaring. Notable cities like Seoul, Tokyo, Jakarta and Beijing are missing, even if you take into account the top 40, which is also dominated by the West.
This could mean two things: Either Asia's best startup ecosystems do not hold a candle to counterparts in the Americas and Europe (Santiago and Sao Paolo made the list), or the rankings are somehow skewed towards ecosystems outside Asia.
The second possibility, it turns out, has an element of truth. I spoke to Startup Genome founder and CEO Björn Herrmann on this issue, and he points out that Asian startups are indeed underrepresented in the Startup Genome. Singapore, for instance, only makes up 1% of the 50,000 startups that were involved in the correlational analysis.
He adds: "We have little data for China, Japan, and South Korea due to the language barrier and IP tracking problems, specifically for China."
So, while the report has limited utility for Asia's startups as a gauge against their counterparts in other regions, we can expect future iterations to become increasingly representative as more Asian startups participate in the Startup Genome and contribute their data. The language barrier is something that the company will have to figure out.
Selected findings from the report (full version):
Silicon Valley has left its imprint on startup ecosystems all over the world through fluid immigration and emigration patterns. Berlin and Sao Paulo have the fewest number of founders that have lived in Silicon Valley before with 4% and 7% respectively, whereas Singapore and Waterloo have the most founders that have lived in Silicon Valley with 33% and 35%, respectively.
Sydney, Sao Paulo and Moscow are the ecosystems that are the most differentiated from Silicon Valley in terms of the types of startups being built.
Sydney is the global capital of data driven startups
Entrepreneurs in Tel Aviv have a hard time adopting new technology trends. More than 80% of startup use the historically popular programming languages of PHP, C++, Java and .Net, despite a number of those languages rapidly falling out of fashion in trendsetting Silicon Valley in favor of Ruby, Python and Javascript.
Even though Singapore has a relatively strong funding environment, the risk tolerance of the founders there is the lowest among the top 20 startup ecosystems.
Melbourne is an upcoming startup ecosystem that ranks high in terms of adopting new trends within the startup world. But one of its biggest pain points is that local companies limit their potential by targeting very small niche markets instead of big global ones.
Be sure to check out our extensive coverage of Startup Genome.