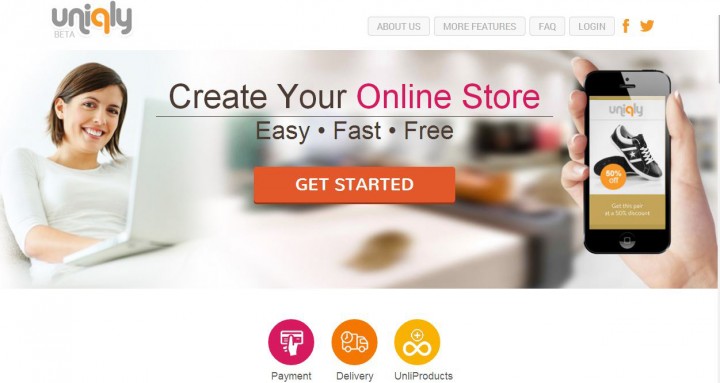 Facebook commerce, or f-commerce, is on the rise in Asia. It's a more and more popular option for smaller retailers and brands to sell online. But while Facebook is a cost-effective means to build an online presence, it lacks the complete social commerce experience.
A seamless ecommerce transaction entails a quick selection, payment, and delivery process all in a single web page. A mere Facebook page cannot offer this. But Philippine startup Uniqly aims to address this.
Uniqly's do-it-yourself website service allows merchants to create their own estore on multiple platforms. Registered users get access to their own sub-domain within the Uniqly platform, where they can make product albums, manage orders, and process payments. From there, integrating their listed products to Facebook or other websites can be done in one click. Uniqly marketing manager Geraldine Tejada explains:
The Uniqly online store appears on a Facebook page's tab so customers can purchase without leaving the social network.
Through the social commerce tool, merchants can accept online payments via credit card, PayPal, and bank deposit – similar to the shopping cart method offered by mainstream ecommerce sites. To complete the ordering process, Uniqly has partnered with a delivery logistics company that picks up orders from merchants and delivers them to customers.
(See: Meet 500Trends, a social ecommerce site with flavors of Amazon, Pinterest, and Instagram)
Launched in February, Uniqly wants to help small- to medium-size online vendors do away with the technical aspects of online selling. Uniqly is free to use – eliminating the huge cost of building and maintaining a website. Instead, revenue comes from a five percent fee for each transaction processed on its site. Tejada says:
Uniqly's goal is to take away the hassles of online selling such as application to a variety of payment gateways, dealing with bogus and haggling buyers, spending time, money, and effort on meetups, and not reaching enough customers in order to sell more. Without these hurdles, small businesses are able to focus more on growing their businesses.
Apart from Uniqly, Singapore-based f-commerce startup Tack This also has a presence in the Philippines.