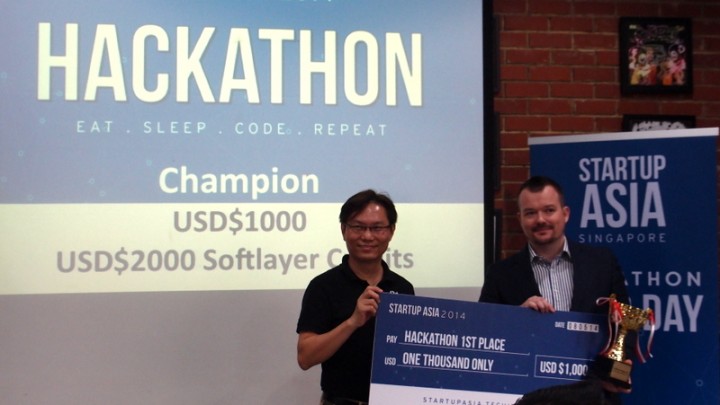 14 teams of entrepreneur hopefuls came together last Saturday to do battle in the final round of Startup Asia Singapore 2014's hackathon. While many were impressive, only a few walked away with the highly coveted prizes. Here are the winners:
Amazon Web Services challenge
Amazon's challenge for these participants was to build a solution that interconnects their devices, and/or the open API data available from the Singapore government to the AWS cloud for analytics or control logic. Here are the three winners:
1st: MelonSail, who created an exhibition management app, won $1,000 in Amazon credits

2nd: Tyker, who created a kids- and family-oriented personalized recommendations app, won the Amazon Kindle ereader, Paperwhite

3rd: Journy, who created an inspirational travel log app, won the Lean Startup book
Intel challenge
The challenge was simply to build an Android app that runs on Intel Architecture. The winner of this challenge, Troop, made a social event and meetup app for Android devices and the Tizen smartwatch, and walked away with a Samsung Galaxy Tab 10.1.
Piktochart challenge
Piktochart, a Malaysia-based infographic editor application for non-designers, came looking for talented developers to join their team. The challenge: to build the "Most Innovative Javascript App".
Tyker took home the cash prize of S$1,000, and perhaps we'll see them on the Piktochart team in the near future.
Samsung challenge
Not surprisingly, Samsung's challenge was to integrate an existing app with their own Galaxy Gear device. The catch is that it should include an interactive actionable alert/notification component on the watch, with two-way interactivity.
The two winners, Gear2Cam and Pandago Studio, won a set of custom-fit Samsung Gear. Gear2Cam created an app that allows the user to control the smartphone's camera using their Samsung Galaxy Gear 2 smartwatch, while Pandago Studio worked on a Samsung Gear 2 app for discovering restaurants nearby.
ETPL challenge
The challenge issued was to design a solution to overcome problems faced by the event attendees and organizers in the MICE (meetings, incentives, conferences, and exhibitions) industry, thus improving the attendees' overall experience, increasing the re-participation rate and improving the organizers' efficiency by deploying technologies and intelligence.
BoothGoWhere, who made an app that gives consumers a seamless experience of an exhibition hall when they enter, and MelonSail came in first and second, winning a Portabee 3D Printer Kit and GoPro Hero3 Camera, respectively, which were sponsored by IIPL.
Mig33 challenge
Singapore and Indonesia-based mobile social networking company mig33 issued the challenge to build an application that would blend one or more social networks, while satisfying one or more of the following aspects: connecting with friends, meeting new people, sharing unique moments, following celebrities, and keeping abreast with the latest trends and news.
Troop was the winner of this challenge, and won $1,000 worth of CapitaVouchers for consumer electronics at Challenger, Harvey Norman, and Courts.
SG Enable challenge
The challenge from SG Enable came in the form of a question: "How might technology help enhance health, fitness, and recreation for persons with disabilities and their families in the community?" Simply put, the participants were asked to develop a solution towards a future for an inclusive society and enabled lives.
Team QQ, who created a hardware solution based on the Raspberry Pi for independent navigation and remote assistance for the visually challenged, nabbed the prize for this challenge, winning a cool S$500 for the team.
Chevrolet challenge
Many were looking to snag the spectacular prize that Chevrolet offered: A trip for two to Old Trafford, with hotel and air tickets included. As expected, the challenge was to to develop a digital experience to allow customers in Asia to experience the power of play with Manchester United and Chevrolet.
The Busby Babes, which created a web app that allows Manchester United fans in Southeast Asia to have a virtual pub match experience and an extended personal connection to the club, were the lucky winners of this highly-desired prize.
Skyscanner challenge
The challenge issued by the travel-oriented search engine was to create a travel planning app using Skyscanner's flight search API. Travel Nudge, an iOS app that inspires people to travel with their friends through the power of crowdsourced photos and big data analytics, came away with the S$2,000 cash prize, as well as an opportunity to demo their product to the Skyscanner team at their office in Singapore. All the best guys!
Here challenge
The challenge was to create a unique and innovative location experience that can be used on a smartwatch. The question in mind: What location-enabled experience would you create for a smartwatch? Pandago Studio and Travelator both answered the question satisfactorily, winning S$1,000 and S$500 in cash, respectively.
Starhub challenge
Starhub's challenge was simple: to create an interesting product for their very own reward-based crowdfunding platform, Crowdtivate. The winners, who won S$1,000 in cash apiece, were Tyker and SwipeTap. The latter team developed an Android assistive technology app to enable people with disabilities to type and communicate using mobile devices.
Overall winners
At the end of the day, there can only be three overall champions who would win a handful of cash and software prizes – and of course, trophies to go with them. The judges who made the call were IIPL's investment manager Zach Tan, All Deals Asia's co-founder Goh Yiping, and Jungle Ventures' operating partner Thomas Gorissen. Here are the winners:
1st: Travel Nudge, awarded US$1000, the Champion Trophy, and 12 months of US$2,000 of SoftLayer infrastructure by IIPL's CEO, Alex Lim

2nd: SwipeTap, awarded US$600, the Silver Trophy, and 12 months of US$1,000 of SoftLayer infrastructure by Yiping

3rd: Gear2Cam, awarded US$300, the Bronze Trophy, and 12 months of US$1,000 of SoftLayer infrastructure by Thomas
A huge congratulations to all the winners, whose hard work certainly paid off! We also want to thank all our sponsors who made this event possible. Click here if you would like to view more pictures of the hackathon.