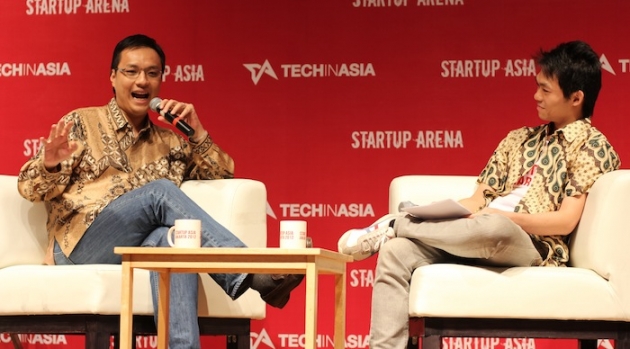 Before our Startup Asia Jakarta 2012 event kicked off, we had a chance to hear JFI director Andy Zain, outline five tips for surviving in Indonesia's mobile market. Thankfully, Andy brought his insight to our Startup Asia stage as well, to share is insights with our audience from the stage. Below are some paraphrased highlights of his talk.
#14:29: I started in the IT industry quite early in '91 with Apple distributors in Indonesia for Apple, which was kind of a dream job for me. In '95 I got into the internet, and got involved in mobile eventually. I'm quite lucky to have been involved in a mobile content project back then.
#14:33: Indonesia is about mobile. We have 240 million population with 200 million mobiles. Here in this room we can see a lot of Apple computers, but in Indonesia most of the computers are in offices and schools, and most connect to internet using their mobile device. Facebook got big here because most people were using it on mobile. If you do a web [only] service, it's hard to get 5 million users.
#14:35: A lot of Indonesian entrepreneurs, we don't have much data on the market, so much is based on gut feeling. Often it's more about what you specifically are familiar with. I worked together with Mig33, I met Steven Goh three years ago. At that time they had about four million users. I didn't really like it but it proved me wrong, it's so simple so easy to use on mobile. And people find it as an escape from their daily life.
#14:38: For many in Indonesia, watching video on a mobile they often feel fortunate to watch video on mobile – because maybe they don't have a PC to watch it on. Sometimes even they have to wait a long time for it to load, but for them it's ok – because the expectations are not the same.
#14:39: More than 50 percent of Indonesia don't live in cities. More than 40 million farmers. For example 8villages.com is a business social network to connect farmers. If you want to share what you are planting, you can see for example, if too many people in your area are doing tomatoes, and you can switch to something else. That sort of thing is really empowering.
#14:43: I have a friend with a mobile video service in Malaysia, and the most popular content there is Indonesian drama series. And it's domestic Indonesian workers who watch it from their room. Many of those people, for example are security guard workers with a little time to kill, for them anything that can entertain on mobile they jump to that.
#14:45: Over 70 percent of the phones in the market here cost below 100 or 150 US dollars. So most of us [in this room] are not part of that group. Up to 90 percent of the phones in the market are below 200 US dollars. They are not smart devices, they are closed operating systems.
#14:47: (Can feature phones be a long term strategy?) Android will be big, I agree. If you bet against it you will lose. But the [low-cost] handsets which look like Android or Blackberry, I think they will have more traction. We have some $40 phones which look like Android but are much cheaper. People don't care about Google Play or whether it can store their contacts in the cloud – Can it do Facebook? Yes? Ok, it's alright for me.
#14:50: (On startups that standout) What I see now is that the company that really looks at the market and builds for it, we don7t see too often yet. One company, Wujudkan, created an Indonesian sort of Kickstarter for art projects, and you can use it to raise funding from your friends. So that's an example of one who looked close at the market and responded to a need [1].
#14:55: There's a company doing micro insurance, for example and if you go on a trip and you have an accident, you can pay in 50 cents for coverage and get back $15000. That's a lot of money. So there are a lot of really unique services like that.
#14:56: (On mobile gaming) We have a lot of people with no other entertainment than mobile. If you can create something simple that works well, then it can succeed. Like Kotagames, you just go to the URL and you can play. So simple services, that don't use a lot of data or flash, and can be used at a high frequency. Chatting and social media services are sort of like this too.
#14:58: The problem is, how can you get paid. The issue here is that there are only 14 million bank accounts and maybe 7 million credit card holders. That's only a small fraction of the Indonesian community. There's carrier billing, and many people complain about it sometimes. It can work for some services, but maybe not for others. Carriers can help you promote and really open things up for you in some cases.
#14:59: (On Japanese mobile gaming companies GREE and DeNA and challenges they would face here) Many companies who come here need to unlearn habits and understand the market. Don't assume anything. Know who your target market is. If you aim at just smart devices that would just get a small percent of the market. For a company like GREE or DeNA, the Japanese model might not work. They need to create a new product for Indonesia, where mobile is the main channel – but it differs in that Japan and Korea uses high end devices. I don't think there's anything that compares to the unique market of Indonesia.
#15:02: (On companies he has helped in this market) I don't want to be the best product producer, but I would rather help an existing product come into here.
#15:05: I'm working with Mig33, and Kotagames. I think there is still a need for services that help to distribute content. Like in the west if you put a game in the app store, it's taken care of. Also distribution, engagement, and payments are areas to improve.
#15:05: Our consumers in Indonesia are really creative. Indonesia took Facebook and took off. In comparison, Brazil took a few years to catch up with Indonesia. It was similar with FourSquare. Indonesian users adopt immediately, and create a lot of trending topics – so when smartphone users grow and the middle class emerges, things over the next three years will be very interesting.
This is a part of our coverage of Startup Asia Jakarta 2012, our startup event running on June 8 and 9. You can follow along on Twitter at @startupasia, on our Facebook page, on Google Plus, or via RSS.