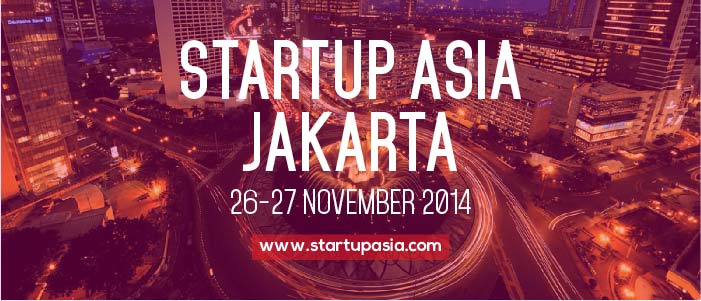 We love Indonesia! The country makes up almost half the population of Southeast Asia, and it has a thriving tech ecosystem that is ready to disrupt. So far in 2014, we've seen some major movements in Indonesia's tech scene like the arrival of Softbank's US$50 million fund, as well as some startup acquisitions. How much change has the ecosystem seen in the last year? And what's the trend going forward?
On the eve of our Tokyo conference in September, we are pleased to announce the subsequent conference in another big Asia market, Startup Asia Jakarta on November 26 and 27. The conference will be held in central Jakarta at Plaza Bapindo.
Startup Asia Jakarta will bring together both local and regional entrepreneurs, investors, developers and corporate folks who are interested in the Indonesia tech scene. For startups, this is where you can learn about industry best practices and connect with fellow entrepreneurs, investors, and potential partners. For investors, this conference offers prime hunting ground for startups aiming to disrupt the Indonesian market. And for the speculators, this conference is a crystal ball for you to stay updated on Indonesia's tech ecosystem and sniff out emerging fortunes.
The third edition of Startup Asia Jakarta will feature all the programs people love about our conferences: fireside chats with renowned figures in the tech scene, the Startup Arena pitching competition, a Hackathon, Bootstrap Alley, Startup-investor Speed Dating, Meet the Media and Market Expansion Track to Indonesia.
Some big names that will be speaking at the event include Hugo Barra, VP of Xiaomi Global, Nobuaki Kitagawa, managing director of CyberAgent Ventures' overseas investment, and Alexander Rusli, CEO of Indosat. Many more interesting speakers are being lined up. Stay tuned!
Lock down November 26 and 27 and join us for a look at Southeast Asia's most exciting market. Since we've already piqued your interest, some discounts never hurt. Please use promotional code "ILOVESTARTUPASIA" to receive a 20 percent discount when registering.
You can visit our website to find out more information about Startup Asia Jakarta. We look forward to seeing you there!
---
This article is available in Indonesian language.