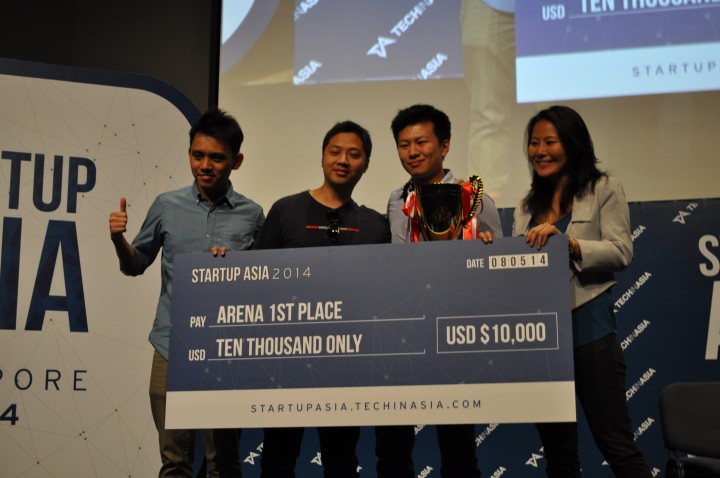 This year's Startup Asia Singapore 2014 is probably the biggest that we've ever had, and it has been such a meaningful and exciting one for us here at Tech in Asia.
Earlier this afternoon, we saw 10 startups take to the stage to battle at the Startup Arena Singapore 2014 competition held in Biopolis, Singapore. Our judges – Paul Srivorakul (Ardent Capital co-founder and executive chairman), Peng T. Ong (Banean Holdings director), Khailee Ng (500 Startups venture partner); Shirley Wong (TNF Ventures managing partner and Singapore Infocomm Technology Federation (SiTF) chairman), and Willson Cuaca (East Ventures managing partner) – after much deliberation decided that the deserving winner of our sixth international conference goes to … drum rolls … Bindo!
The Hong Kong startup's POS system that merges online and offline operations for brick-and-mortar retailers counting on web sales for extra revenue won the hearts of the judges.
Following closely behind in second place is Kairos Watches, a Korea-based startup that manufactures a hybrid mechanical smartwatch. In third place is Asli Goli, a Pakistan-based startup that helps check for fake medicine using a scratch-off authentication code on the container and SMS verification. Fourth is Facerecog, a Singapore-based startup that uses proprietary facial and signal tracking technology to track facial expressions. Fifth is MergePay, a Thailand-based startup that builds tools for small businesses that help them manage finances.
Missed out on our Startup Arena competition? You can find all the ten startups who competed on the event stage here. For full coverage on our two-day conference, you can read it all here.
The Startup Arena competition will be returning to Tokyo this September, so see you at our Startup Asia conference later this year!