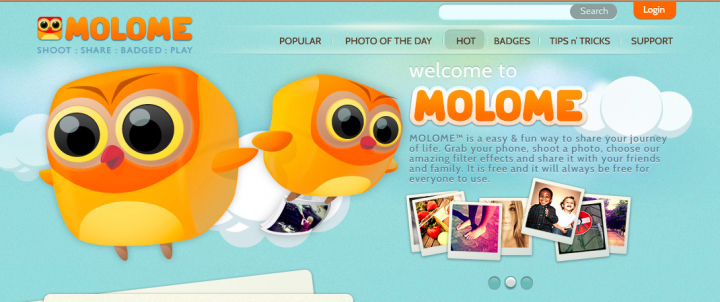 Asians are kinda obsessed with taking photos – selfies, foodie pics, anything. Two cities in the Philippines are the two top spots in the world for Instagram selfies. Thailand has 1.5 million Instagram users, and a mall there is the most Instagrammed place in the world.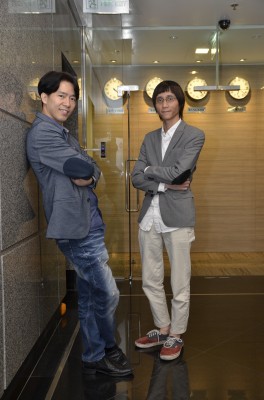 With all that going on in the background, Thailand-based startup Molome wants its photo-sharing app to take off amongst the region's photo-addicted populace.
Founded in March 2011, Molome dreamed of being just like Instagram. But the team soon realized the soon-to-be-Facebook-owned app had already won the battle.
Making photos funnier
However, Molome's founders didn't give up. Instead, they evolved the app. Molome is now a photo app fused with huge Line-style stickers and a meme generator. Instead of focusing on beautifying photos, the app aims to make photos funnier. Molome has 40,000 daily active users right now who upload over 15,000 photos per day.
According to Molome's founders, Atthur (Art) Chaiyamanon and Sittiphol (Neoi) Phanvilai, they have startup accelerator Joyful Frog Digital Incubator (JFDI) to thank for the turn-around – and for a big change in their way of thinking. The two JFDI alumni claim the Singapore-based accelerator completely transformed the way they look at business.
(See: Singapore accelerator JFDI raises $2.1 million, will run more bootcamps than ever before)
Timing matters
Molome's founders tell Tech in Asia that a few years back the word "startup" wasn't widely used or known in Thailand, so the duo weren't even aware it was a startup. The two friends only knew they wanted to create a photo-sharing platform. After struggling for a few years, they realized what a startup was. But the tech ecosystem in Thailand wasn't ready and the company struggled to find the right investors and mentors.
Nonetheless, the duo knew they wanted to go global with the app.
So the founders applied to JFDI. The first interview with the accelerator didn't go too well. Later on, they learned about AIS startup Commercial Pitch in Bangkok and decided to join the event to hone their pitching skills. That's where the founder met with JFDI's Hugh Mason.
In the past, the founders ran the business without a solid strategy. But being in JFDI taught them that business is a science that can be repeated. A company must have goals and KPIs at every step to check if it's moving in the right direction. Art explains:
We have to do homework by ourselves if we want to talk to the mentors. JFDI also provides daily checks which keep us on track of what we're doing. We get to set goals for ourselves every week. It changes our perception. They teach us how to walk, not lead us to walk.
Thailand startup community
As with 500 Startups, JFDI creates an open community for startups to help each other. There are referrals, rejections, and critiques of one another's ideas. According to Molome's duo, there's no such culture yet in Thailand – or at least not one that's so wide open.
Another cultural difference is that Thai people tend to be shy to talk to new people. So Thai people are not so keen to attend networking events. While this kind of approach to business might not be the forte of Thai entrepreneurs, the Molome team believes that programming skills and creativity are strong points for people in Thailand.
(See: What really goes on at 500 Startups, as told by Builk founder Patai Padungtin)
Neoi explains that accelerators are lacking in the Thai ecosystem:
We need to match investors with startups. More accelerators can help with that. However, what I can see right now is that everyone serves themselves.
The founders believe Thailand needs an accelerator that will change the way startups think.
Power and passion
Neoi compares the startup ecosystem in Singapore to the one in Thailand:
The problem in Singapore is that there's money but it seems like there's not that many unique startups. But for Thailand, there's no investor but there are people who want to do something. However, the quality still isn't there. Thus, the money is also not there.
Power and passion is what he sees as the key that's driving Singapore now. He adds:
Over there, passion is important. Investment is what pushes them. It's the power. But most Thai startups feel as if money is the key to success – and they stop pushing. To have a successful startup, half is the feeling, the other half is knowledge.
Okay to copy, just need a unique identity
The top three markets for Molome now are Thailand, Indonesia, and Brazil. It plans to add support for over 100 languages in the next few months as there are requests from European countries.
When asked if Molome has a place in the market up against Instagram, Neoi responds:
You will never be the first and the last to do this. You just have to find your selling point or you will be just another of something.