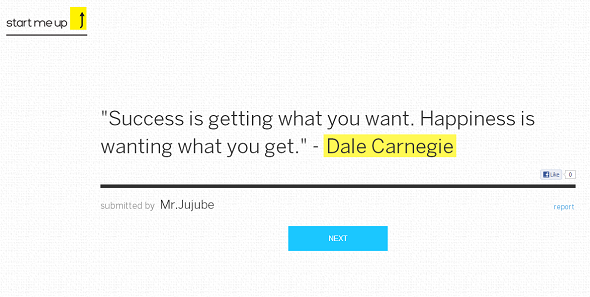 StartMeUp was born as a platform for the startup community in Vietnam to gather every month to share success stories, experiences, and networks.
Created by the team at Keewi, a Vietnamese startup working on an event ticketing platform, StartMeUp's first event saw 120 participants and four startup pitches. Ten events were held in total.
While events are fine and well, the team now wants to scale up. Their latest project: a website for sharing motivational quotes. The idea is inspired by Brian Tracy — a motivational speaker and the author of the book "The Psychology of Selling: The Art of Closing Sales", "Eat That Frog" and "Goals!"
The team hopes to encourage positive thinking by reading uplifting stories or quotes early in the morning, instead of the usual news headlines, television, or Facebook updates.  The platform is open to all — anyone can submit an uplifting quote.
Interestingly, users can find out more about the person behind the quote by clicking on his or her name. The team hopes to add pictures to accompany the quotes next.