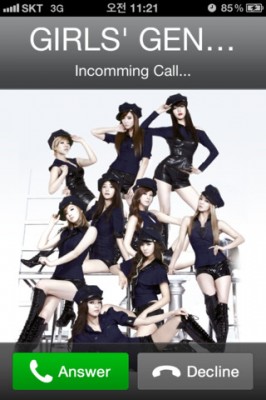 I'm a little out of touch with the music scene recently, but I hear the kids these days really like themselves some K-pop. And South Korea as a whole appears to be doing a pretty good job of packaging this cultural export for global consumption. Not surprisingly, smartphones are a part of this process as well.
Take for example the StarCall app from SK Planet (a subsidiary of SK Telecom), which since it originally launched in Korea has managed to accumulate 3 million users. The lets you receive real-time video calls from your favorite K-pop stars, or if you miss the call, you can view it later in your 'callbox.'
The calls are mostly in Korean, but SK Planet's agency will add translations after a call is stored in the callbox. The company is now aiming to push this application in markets across Southeast Asia – including Singapore, Indonesia, Malaysia, and Thailand – as well as Australia, America, and Japan.
Featured K-pop artists in the app include Girls Generation (pictured above), Super Junior, and 2PM. There is also a StarCall SuperFan contest ongoing as well, which you can check out over on the Facebook page.
The app is available for both iOS and Android. If you'd like to learn more about how StarCall works, you can check out its (somewhat cheesy) promo video below. As for me, I think I have some Nickelback on a shelf here somewhere that I can put on [1].