China's Dota 2 juggernauts clashed once again, with Team DK emerging victorious over Invictus Gaming (iG) with a 2-0 win and successfully securing their spot in the LAN finals of Star Ladder Season IX. Both teams met earlier in the group stages where iG ended DK's two-month-long winning streak.
(See: Infographic: The rivalry of Team DK and Invictus Gaming)
Both games were won convincingly by Team DK, though both teams came up with rather unusual picks. Team DK drafted a Faceless Void and a Witch Doctor in game one and iG even drafted a Huskar in game two. The replays aren't up yet, but you can find them here once they do go live. Here are the ending screens for both games:
Game 1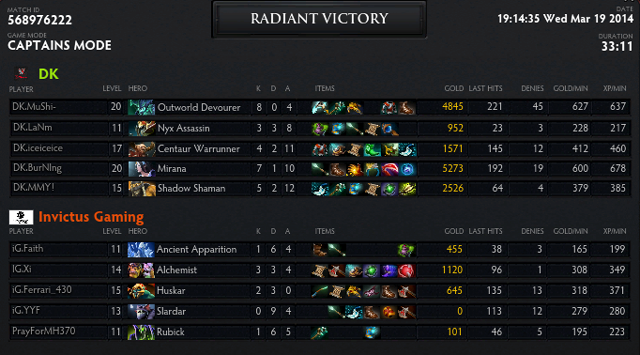 Game 2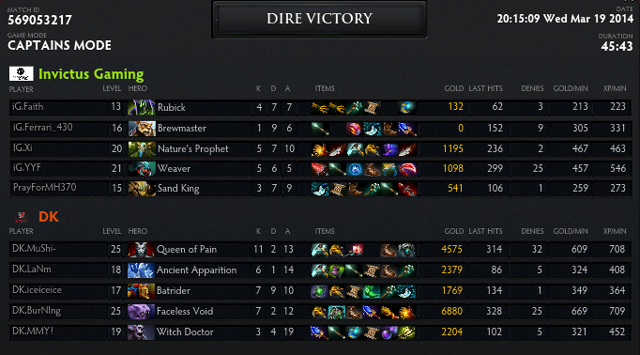 IG may have lost to DK, but their road to Star Ladder IX LAN finals does not end yet, as they fall to the lower bracket where they will face Team Newbee, who eliminated LGD out of the tournament. Team DK and the winner between iG and Newbee will be facing four teams from Europe, one team from America, and one from Korea in the Star Ladder IX LAN finals on April 17 in the Cyberarena in Kiev, Ukraine.
As you might already know, Kiev is currently in a state of disorder. Although there is still a month left before the LAN finals, there is still no certainty when the situation in Kiev will see its end. I wonder if this will affect the players, not to mention the tournament as a whole.
If you want to watch the match in-game, you can purchase the Star Ladder Season IX ticket for $9.99 via the Dota 2 store. The ticket will be good for all divisions of the tournament up to the LAN finals. You can also watch the Star Ladder English livestream for free.