China's most iconoclastic modern artist, Ai Weiwei, has been under a lot of scrutiny lately. Police scrutiny, of the kind that entails video surveillance and plainclothes agents and that sort of thing. Not fun! But Ai, never one to let politics or his own privacy get in the way of art (especially art that mocks China's government), has decided to set up surveillance of his own. On WeiWeiCam.com, you can now watch the artist's comings and goings from the comfort of your own home.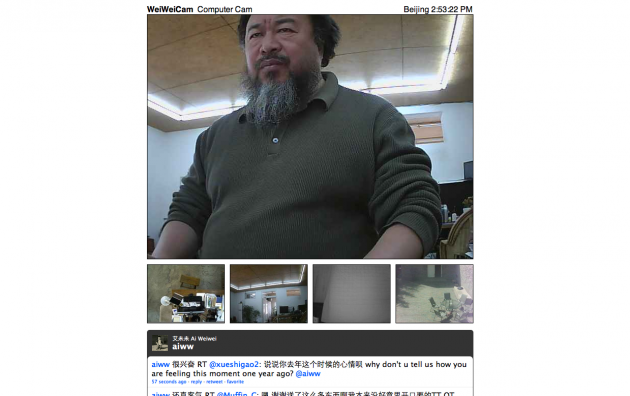 Probably not coincidentally, the launch of this site coincides roughly with the anniversary of Ai's disappearance one year ago today, when he was taken by Chinese State Security agents and held for 81 days via a loophole in Chinese criminal law that allowed the police to hold Ai under 'house arrest' at a location of their choosing and without informing his family or anyone else of his whereabouts.
It's not exactly a live video feed, but the cameras cover four different areas of Ai's studio/home, and post new photos every few minutes. I've been watching it for a couple hours this afternoon, and it's clear the images are updated with some frequency. It's not exactly compelling viewing, but that's not really the point.
Still, if you want to be in on the joke — or you just want to see more photos of Ai scowling at his computer and his cat wandering around the courtyard — go ahead and bookmark WeiWeiCam. Household surveillance isn't just for the police anymore!