Update (23rd August, 1:53pm): Steve has told us that they have surpassed 20,000 downloads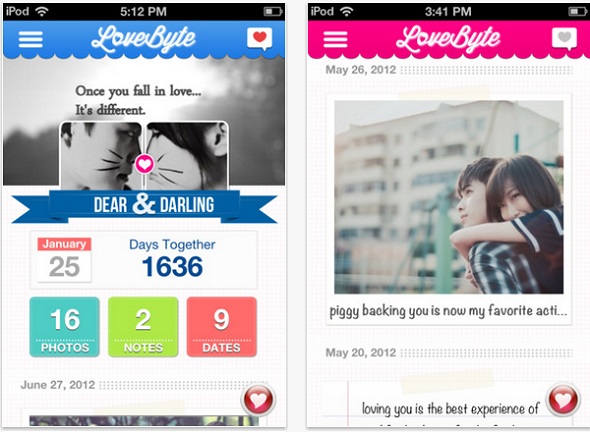 As a startup that's all about strengthening relationships, LoveByte certainly didn't get much affection from investors. Few thought that there was a need for another private social network for lovers, and those few didn't believe in it enough to put their money where their mouth is.
But the app went on to get 20,000 downloads in just under 3 weeks, an impressive figure by any standard. It topped the Lifestyle category in the Singapore App Store for days, breaking into the Top 25 overall to beat popular apps like WeChat and Instagram.
The journey for Steve Sng, who thought of the idea, had been rough.
As a Founder Institute (FI) Singapore student, he pitched LoveByte to FI founder Adeo Ressi, who was unimpressed by it. He said that the market is too small and challenged him with the question of how to get a million users. 
Steve was booted out on the spot for failing to come up with a satisfactory answer.
"It really didn't help that the person who was supposed to meet him before me didn't turn up, got into an heated argument with Adeo on the phone and got booted by an angry Adeo," he said.
The event left him very upset and he stopped working on LoveByte for a while. But he bounced back by focusing his attention on a side project.
He had little luck with government funding either.
His iJam application was rejected by an expert panel because they did not think the app is clearly differentiated from its competitors Between, Pair and Path. He missed out on the old YES! Startup grant due to the age limit, and couldn't apply to the new ACE grant as the company was already past 6 months old.
As a result, he had to bootstrap all the way. He did form a team that shares the same vision. Amelia Chen does design and social media, Ang Hee deals with marketing and business development, while his girlfriend Ng Mingjie, who has been very supportive of him since the very beginning, handles the finances.
LoveByte started off as a web app, but the user response from private beta wasn't great. As a result, they made the painful decision to scrape everything they've been working on and built a mobile app from scratch.
These days, the startup is receiving more interest from investors due to the strong initial user traction. Perhaps a small investment is due: Many startups have received seed funding even before they hit the 10,000 download mark, and I believe LoveByte deserves at least a second look.
The team still has much to prove though. It is far from being on par with its competitors. Last we heard, South Korea's Between has amassed 900,000 downloads, 60 percent of which have become monthly active users.
Adeo's question of how LoveByte will hit a million users still rings loudly.
The app is available for download on iTunes.