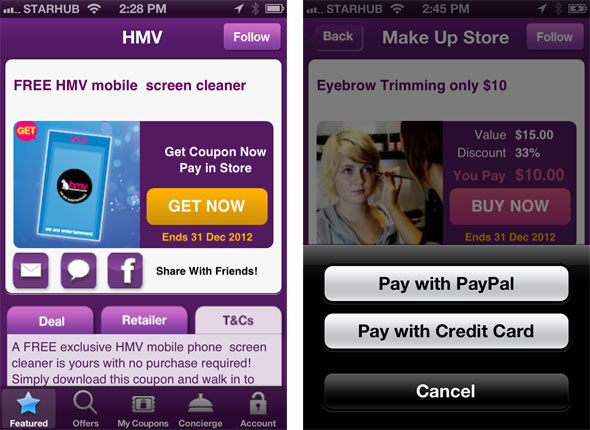 Soon after a USD0.48M funding round from Get2Volume, Singapore-based mobile marketing startup Sprooki has gone white label. It launched on 29 November a new location-based marketing app customized just for Singapore shopping mall 313@Somerset,  and will be looking to sell the solution to even more shopping malls and retailers.
The iPhone app, called Tring313, enables users to find deals that are nearby, download coupons, and make redemptions at the store. They can also make purchases directly on the app.
Malls and retailers can use the platform to schedule promotions, offers, and events to appear on the app as targeted messages. They can track and manage coupons as they are being downloaded, purchased or redeemed.
This is the second app that Sprooki has developed for 313@Somerset. The first app, which had similar features, is built on a different platform and is being phased out.
Mobile marketing solutions appear to be making headway with Singapore's malls and retailers of late. Recently, NoiseStreet pioneered an interactive game with SPHMBO at 313@Somerset where winners can win bubble tea vouchers. Meanwhile, loyalty stamp apps like Perx and Squiryl have been picking up retailers.
In October, another mall in Singapore, Jurong Point, also launched their very own app to push promotions and deals. It will integrate Apple's Passbook technology, making it the first mall app in Singapore to do so.
There's certainly a landgrab going on in the mobile commerce space in Asia: While retailers are becoming comfortable with mobile technology, it isn't clear who are the winners at this point.
The existing apps, broadly categorized into three groups — mobile advertising, mobile loyalty, and mobile wallets — are still experimenting with different approaches and business models, leaving the field wide open.
That's certainly good news for entrepreneurs that still want to get into the game. But as is the case with consumer technology, things can often take an sharp and unexpected turn.