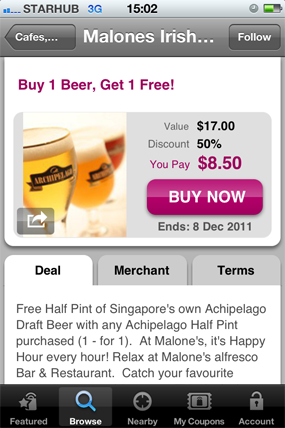 Sprooki, a Singapore-based company that provides retailers with end-to-end mobile solutions to engage customers, has secured SGD 0.59M (USD 0.48M) in seed funding from startup incubator Get2Volume, in partnership with the National Research Foundation.
Sprooki has received a total of SGD 1M (USD 0.81M) in funds so far. It's the second time Get2Volume has invested in the company.
Since the startup's launch in October 2011, where it announced a tie up with Orchard Road mall 313@Somerset, it has partnered with over 60 mall and retailers in Singapore and Asia.
The company's system can provide mobile apps for shoppers. These apps can serve location-based ads and promotions and allow users to make mobile purchases.
Retailers, on the other hand, get to utilize shopper analytics and location-aware campaign management tools. They can get the app deployed within weeks, under their own brand name.
According to Claire Mula, managing director and co-founder of Sprooki, she will use the funding to grow its footprint internationally and secure partnerships with Asia's top malls and brands. The startup will also improve on its platform's user experience and shopper analytics feature.
Since last year, retailers in Singapore have started opening up to the possibilities of mobile commerce and mobile marketing. Apps like Perx and Squiryl have acquired hundreds of merchants. Malls like Jurong Point now have their own mobile apps, some of it would inevitably incorporate Apple's Passbook technology.
This funding round was made under the NRF's co-funding initiative, called the Technology Incubator Scheme (TIS). Get2Volume had earlier invested in Plunify, which enables chip design in the cloud, under the same scheme.
Check out our complete coverage of NRF's activities.