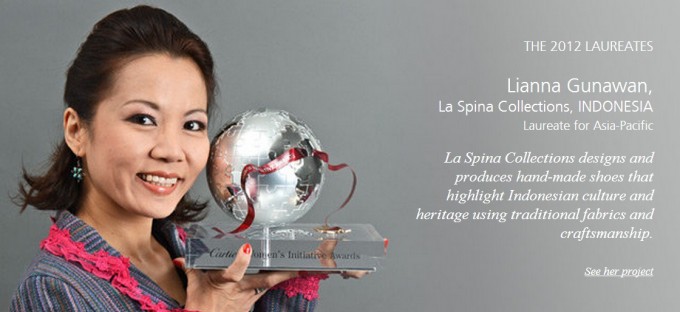 An annual international business and entrepreneurship competition for women called the Cartier Women's Initiative Awards has picked its new winner from the Asia Pacific region – she is Lianna Gunawan (pictured above) from Indonesian women's handmade shoe store La Spina Collections [1]. Lianna managed to beat off strong competition from India's online job marketplace for women Fleximoms.in and the eco products store from the Philippines, EchoStore. Olivia Lazare, the project leader of the Cartier Women's Initiative Awards, explained about the decision:
The competition was tough in the Asian panel. Fleximoms and EchoStore are both very good projects. But at the end of the day what made the difference is the potential of growth and the scalability of La Spina Collections. Please keep in mind that the jury evaluate the projects with regards to the following criteria: social impact, financial sustainability and scalability and creativity.
Lianna has etched her name in Cartier's history books as she's the first ever Indonesian winner of the awards, which began in 2006. It's been a good year for Lianna as she was also a runner-up at the Multiply and Femina Female Entrepreneurship Program this summer. It looks like her online business promotions rely heavily on its Facebook page and Multiply account.
Calling Female Entrepreneurs for 2013…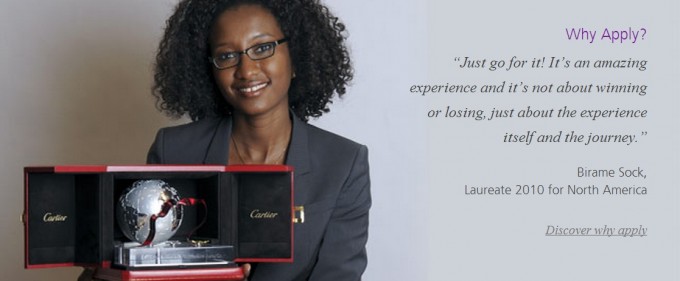 The Cartier Women's Initiative Awards looks like a very interesting competition. It promises a cash prize of $20,000, a full year of coaching support, links to its international network, and brings media exposure to each of the six winners from six different regions – Latin America, North America, Europe, Sub-Saharan Africa, Middle East and North Africa, and Asia-Pacific.
The 2013 batch competition registration will be open from November 12th, 2012, to March 8th, 2013. Female entrepreneurs can check here for more information.
---
La Spina Collections is also an offline retailer with four stores so far.  ↩