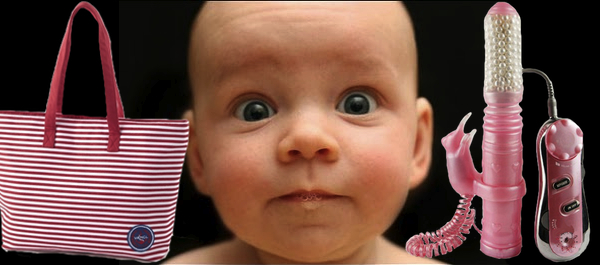 Sex toys, handbags, high heels, baby milk. No, this isn't a review for an upcoming chick-flick movie – those are some of the key ingredients of a successful, specialist, fast-growing Chinese e-commerce website. It has long been a saying in Chinese business circles that "女人和孩子的钱最好赚" – "Women and children are the easiest to earn profits from" – and that adage has proven true in online retailing.
In this list of 5 hot, upcoming and fast-growing Chinese B2C online stores, all but one of them caters specifically to women, either for purchasing for themselves or their children. I'm sure you'll spot the odd-one-out, so to speak.
It's not that women don't buy a lot of other products online, from a variety of different e-commerce sites, or that men only buy gadgets or something. Rather, the story is essentially that: (A) selling consumables – of which women are often in charge of purchasing – brings, by definition, a lot of repeat page-views and return purchases; (B) women are perhaps more loyal to a site if they get good service, and, (C) a good way to build your e-commerce brand is by specializing in one online retailing market, and doing it well.
As I saw last week, when looking at customer loyalty to Chinese e-commerce sites, areas of specialization and necessary repeat purchases can be golden. Here are 5 specialist sites (in no particular order) in China, that show how it helps to have one area of expertise…
---
1. Gdian.com hits the spot
---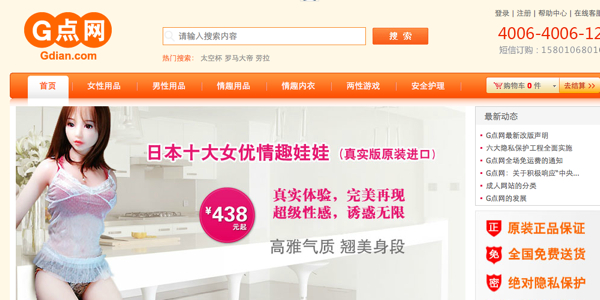 Gdian – whose name translates to 'G spot' – specializes where not many e-commerce sites dare tread: sex toys and other kinky accessories. Selling everything from
oh blimey where does that go
to
holy lord that looks painful
, Gdian.com proudly proclaims itself to be China's no.1 adult toy retailer. Despite its clever and amusing name, I suspect they might be hurting from being unsearchable on
Baidu
, and not visible on
Google
search results until you turn off the 'SafeSearch' filter.
Nonetheless, the site is a shining light in how to turn something difficult into a nice business opportunity, taking away the potential embarrassment of buying from C2C sources on Taobao, and wrapping it in a more professional package.
---
2. Redbaby.com.cn crying for attention
---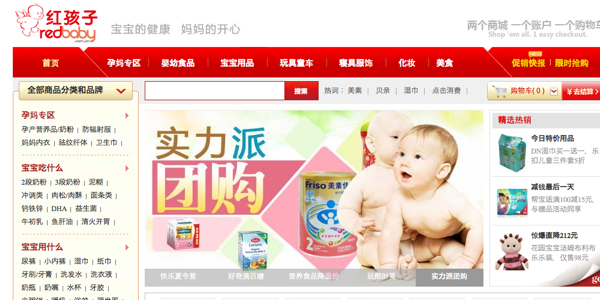 With backing from
investment
firm NEA since its inception, and further rounds of funding with injections from Northern Light worth US$25 mil., Redbaby is doing well from its specialization in the thousand-and-one things that your bundle of joy needs to thrive. After that, Redbaby even launched its own brand of products, so as to get its name onto the High Street as well.
A major threat to Redbaby is Taobao's branded TMalls, which gives all kind of brands – including those retailing baby milk formula, infant's clothing, etc – a direct online storefront for parents.
---
3. iHush.com making a noise
---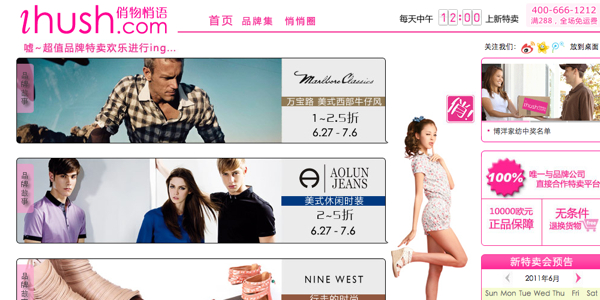 Just last week, iHush.com – which sells a variety of
brands'
male and female clothing and accessories – raised $43 million in venture capital funding to improve customer service and expand its user base. The site's unique point is the way it sells certain items at discounts during a set time window, usually for a week, for discounts that can get as large as 80%.
---
4. M18.com stepping out in style
---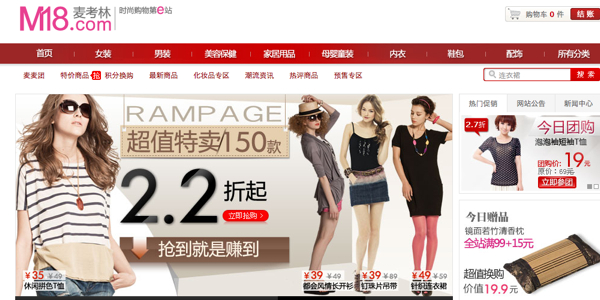 M18.com (NASDAQ: MCOX) – Chinese name: 麦考林 – sells mostly women's branded clothes – including but not limited to its own Euromoda label – but does also sell men's (although it has more of a 'buy for your husband' vibe). Despite no particularly unique 'hook' to pull
consumers
in, the site is growing, albeit slowly: net revenues at 2010 Q4 were up to US$64 mil., although profit more than halved, to $1.1 mil.
---
5. Vancl.com making its own way
---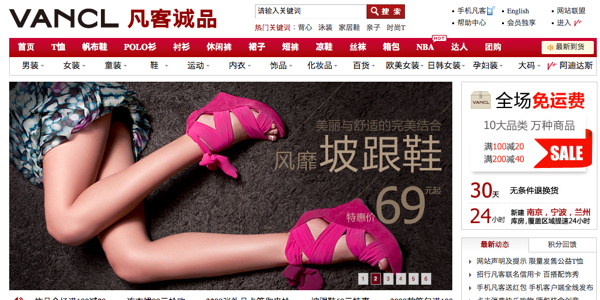 Planning a US$ 1 billion IPO sometime this year – or it might transpire to be 2012 –
Vancl
has come a long way, quickly, since its 2007 inception, having had venture backing from IDG, SAIF Partners, Ceyuan Ventures and Qiming Venture Partners. We gave
the site and its strategy a review recently
. Its specialization is in own-brand clothing, both male and female. Vancl's killer weapon seems to have been a massive advertising expenditure, rumored to run into tens of millions of dollars.