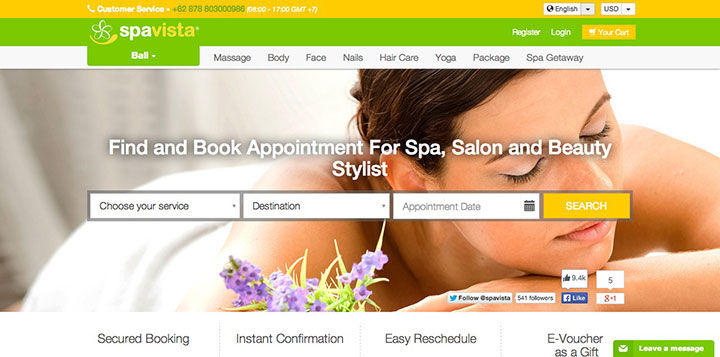 Spavista, the Indonesian platform which lets consumers search for and book beauty and wellness services, today announces that it has received an angel investment amounting to S$200,000 (US$160,000) from the founding team of Singapore's automotive marketplace SGCarMart. The Bali-based team will use the cash to hire a few people in Jakarta as it focuses on acquiring more partners in the capital city area.
"I believe [the angel investors] will be able to provide some marketing and execution strategy as they have also been in [the] marketplace [space] for years," says cofounder Ken Suriafur. He admits that Spavista does not have an impressive number of partners and online reservations yet, but is confident they can grow much faster within the coming months.
Launched in May 2013, Suriafur and cofounder Sulaeman team told Tech in Asia in April that they had around 200 partners, located mainly in Jakarta, Bali, and Batam. Spavista also has a few overseas spa partners in Singapore and Thailand. The company earns money mainly from booking commissions and premium listings.
The duo is now developing white label mobile apps for their partners, which will help the team monetize through annual subscriptions. They will start marketing this program in the coming months. Suriafur says the biggest challenge he faces running Spavista is educating the market.
The biggest challenge is the market attitude. What I mean is whether the market is ready for our solution or not. Our solution may be too early for the market in Indonesia but our whole team believes the market in Indonesia is an early adopter and as long as we provide more values, we believe our market is ready to adapt to our solution.
Suriafur claims that the team doesn't face direct competition in this field in Indonesia. Some indirect competitors, however, include Groupon Indonesia and LivingSocial Indonesia.
See: 30 fundings and acquisitions in Indonesia in 2013