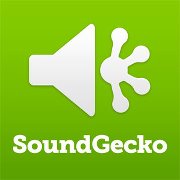 We're seeing more and more impressive startups coming from down under, and SoundGecko is one which has captivated us once again. A couple of months back while I was jogging, I wondered if there was a service out there to help transcribe articles into audio. My hope was that I would be able to take written web content and listen to it while jogging. And SoundGecko does that.
The Melbourne-based startup is a text-to-audio transcribing service which allows you to listen to written content while on-the-go. It can be done in three simple steps:
Find the article on the internet.
Upload the article onto SoundGecko.
You can then listen to the articles anytime you wish, while on-the-go.
Users are able to use the service without signing up, but it has benefits when you do so. You will be able to link your Google Drive or Dropbox account to SoundGecko, and it will automatically place a copy of the mp3 audio file on your SoundGecko cloud drive. You can also download the startup's iPhone app to listen the playback of the articles that you have submitted.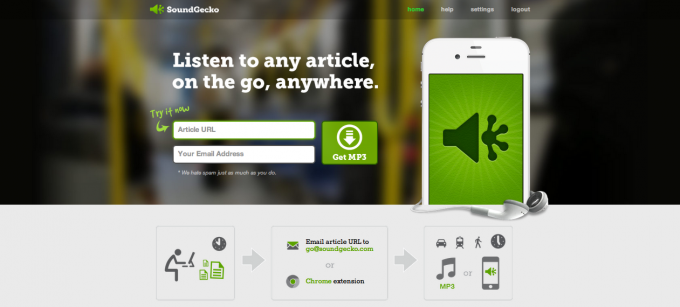 SoundGecko utilizes content abstraction algorithms that analyze the page to work out which segment is content, and it also generates the summary that you receive when the mp3 audio file is sent to you. I thought it would be pretty troublesome to manually submit articles before it gets transcribed into mp3 audio files, but co-founder Edward Hooper tells us the startup's upcoming plans to enhance the entire transcribing experience:
[At] present all files must be manually added either through email, the website or our Chrome plugin. We plan to introduce a RSS subscription feature to help people stay up to date with commonly updated topics.
And to female readers out there, this service is an added bonus because the transcribed audio is that of a male's voice. Ed tells us that it was chosen based on user feedback for quality and clarity, but will explore adding voices and languages preferences for their services.
SoundGecko is the first product launched by the guys behind 121cast, a free personalized and interactive radio station startup. It is also under the Melbourne Accelerator Program (MAP) and has also recently been shortlisted under the Optus Innov8 seed fund program.
I thought it serves as a good alternative to getting information out of written content on the web without straining your eyes. It allows one to multitask more efficiently, and I'm eagerly waiting for the startup to introduce its RSS subscription feature soon. I've also transcribed an article which I wrote yesterday on IndexMedia Pips, which you can listen to here.
For interested users, you can visit SoundGecko and try out its services here.