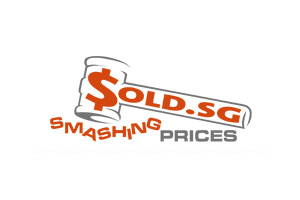 Who needs group-buying sites when you can get 60 percent discounts at Sold.sg? This Singapore-based unique little online penny auction site makes e-commerce fun and makes daily deal sites look dull. Here's the definition of a penny auction, the business model employed by Sold.sg:
A bidding fee auction, also called a penny auction, is a type of all-pay auction in which participants must pay a non-refundable fee to place a small incremental bid. When time expires, the last participant to have placed a bid wins the item and also pays the final bid price, which is usually significantly lower than the retail price of the item.
Personally, I find this model interesting as it creates a gamification environment integrated with commerce intent.
Here's how it works: A user at Sold.sg buys tokens prior to bidding. And each time someone bids for an auction, the closing price increases and the user loses that token. It sucks because you lose tokens even just by bidding. But on the flip side, the last bidder wins it all and usually pays a very low price. On top of all the token used, the winning bidder also has to pay for all the "cost of bids." (see image below)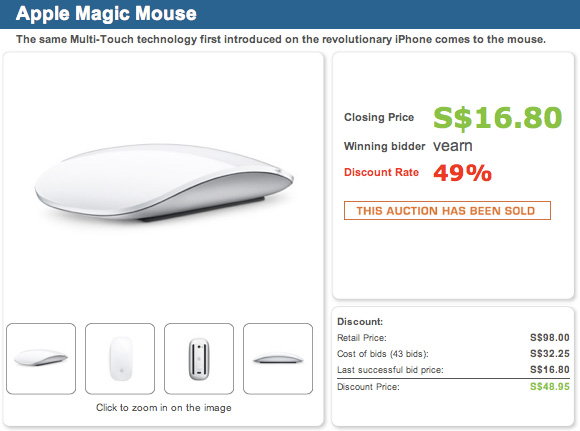 In general, all auctions start at $0.00 and as each user hit the bid button, the closing auction price and expiry time will increase by SGD$0.15 and up to 20 seconds, respectively. Qiuyan explained to us further:
Each token costs S$0.75 and can be purchased from My Page. When the timer reaches 0, the last successful bidder wins the right to buy the product at the final auction price (usually at 60-98% OFF the retail price). "Tokens" are required to bid on the auctions.
It sounds like a good deal for consumers. The only pain is that the user has to wait and watch over the auction item. But that is exactly what makes Sold.sg fun too — hunting for and hijacking great deals.
I wondered about the source of these products and Qiuyan told me that her product team reviews these items before putting them up for auction. She added:
We put up items we find interesting or that are hard to find. All the products are brand new and they are directly from our suppliers. As such, we are able to maintain the quality of the items on our site.
Within just a year, Sold.sg is already a profitable start-up with 34,000 loyal users in its database. Interestingly, both founders, Qiuyan and Angeline Tham, are ex-bankers who used to work for JP Morgan and Goldman Sachs, respectively. When asked about their decision to take on the entrepreneurial path, Qiuyan remarked:
Banking was a very good experience for us to learn about the corporate world and how to put processes in place. We always had the entrepreneurial spirit and really wanted to do something to call our own. After 4-5 years of banking, we decided it was time to strike it out on our own. We came across the online auction model and were intrigued by the business model. By chance, one of our partners had a contact that could help us start the business here in Singapore. From there, the rest is history.
Seriously. We need more folks like them in Singapore — More entrepreneurs and less TGIF laborers.