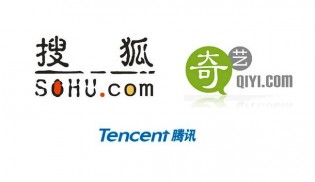 Sohu's (NASDAQ:SOHU) video offerings have been in the news quite a bit recently, as Sohu teamed up with Baidu's Qiyi and Tencent's video products to create an alliance that would purchase content rights together to help defray costs. But does Sohu have other plans for its video section?
Yesterday during Sohu's quarterly earnings call, CEO Zhang Chaoyang announced that the company was splitting video sales from the rest of its sales team, turning it into a separate group entirely dedicated to video ad sales. Zhang explained this a response to the unique aspects of selling advertisements for video, which certainly makes some sense. But it's clear that Sohu is putting more emphasis on its video team, which is interesting especially in light of comments the company's CFO Yu Chuyuan made about its alliance with Qiyi and Tencent.
Talking about the breakdown of costs between the three companies, Yu said that the costs would be the same, but she added:
However, the three companies will continue to buy additional content independently. It would be impossible for all video content purchases to be made together.
Yu also doesn't seem to consider the alliance to be a long-term endeavor. In response to a question about how long it would be in effect, she said:
The are no provisions for a time limit on this alliance; we can end it at any time we wish.
Zhang Chaoyang also spoke about Sohu's prospects for acquisitions in the video market, making it clear this is something the company is very interested in. Since Sohu isn't likely to be able to buy out Tencent or Baidu-owned Qiyi the company is likely looking elsewhere for potential acquisitions.
Could an acquisition lead to the end of the Sohu-Qiyi-Tencent alliance? Is Sohu really as dismissive as Yu Chuyuan makes it sound? It's difficult to be sure. While Zhang clearly wants to make an acquisition, analysts have suggested it's not particularly feasible right now. And Yu's comments could be foreshadowing, or they could just be candor about the terms of the alliance in general. It certainly sounds like things aren't quite as tight-knit as we first thought, though.
[Sohu Q1 Earnings Call via Sina Tech Transcript]