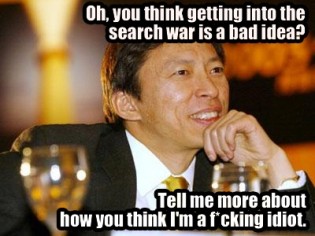 Late yesterday, we reported that Sohu CEO Charles Zhang wants into the Baidu vs. Qihoo 360 search battle. He wrote on his Sohu weibo that Sogou (Sohu's search engine) "has to take part in this search war."
But apparently not everyone at Sohu agrees. Sohu CTO Wang Xiaochuan posted this message on his Sina Weibo account about five hours after Zhang's post saying Sohu must participate in the search war:
It's a hoodlum [Qihoo] versus a monopoly [Baidu], so who should we help? Participating in this war is really f*cking stupid.
Yikes. Presumably inadvertently, Wang just called his boss "really f*cking stupid." That's gonna make for an awkward staff meeting Monday morning. One has to assume Wang didn't do this on purpose; he may not have seen Zhang's weibo post. Zhang isn't generally known as a vengeful guy, so I suspect Wang won't be in too much trouble, but this definitely isn't the kind of press Sohu was probably looking for right now. Luckily for Mr. Wang, this all happened late Friday afternoon, which is where news goes to die.
With the CTO pulling in one direction and the CEO another, it's hard to say whether Sogou will ultimately jump into the fray or not. Zhang probably isn't going to appreciate being publicly cussed out by a member of his management team, but Wang does have a pretty good point. Taking steps against either 360 or Baidu would likely gain Sogou some short term press but could push the service further into irrelevance if either Baidu or 360 decided to remove Sogou services from its search results.
[via Sina Tech]