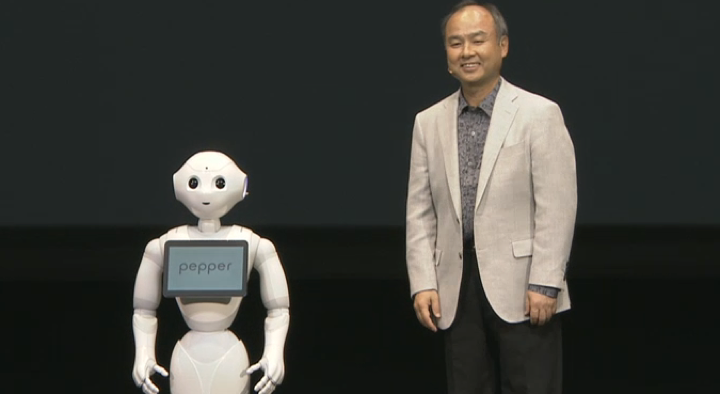 Masayoshi Son, the CEO of Japanese wireless carrier SoftBank, introduced what he called the world's first robot capable of recognizing human emotions at a press conference this afternoon. Named "Pepper," the glossy-white, 120cm-tall humanoid robot will be sold to the general public starting next year.
"When people are described as acting like a robot, it means they have no feeling or emotions – we start challenging this concept today," Son announced. "Today is the first time in the history of robotics that we are putting emotion into the robot and giving it a heart."
Pepper is equipped with four high-performance directional microphones that allow it to identify the direction of a sound. It also utilizes infrared technology to maintain a comfortable distance from human companions. The robot's most vital function, however, is its emotion recognition sensor.
Son said that today's announcement would go down in history:
For the past 25 years I've believed that the computer would someday function like the right brain of people – the side that controls emotion and sensitivity. I'm proud to introduce the first robot that can read emotion. Pepper marks a baby step in our dream to make a robot that can understand a person's feelings, then autonomously take action.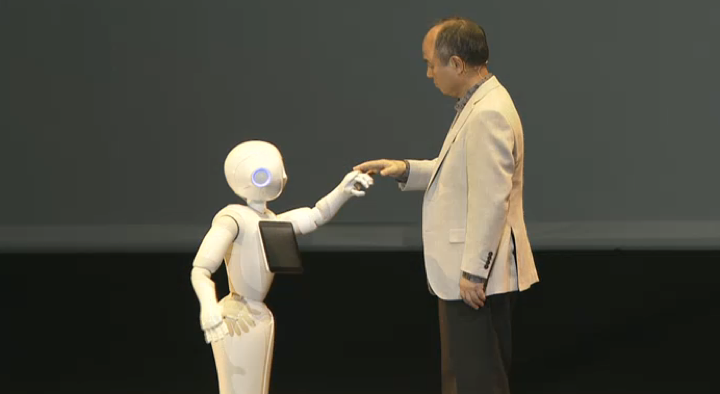 Pepper will utilize cloud-based AI to store "collective wisdom" – the company's term for observations of human emotion. Son hopes that "hundreds of thousands" of Peppers will learn these emotions in people's homes, then share the data they gather with other robots to speed their evolution.
When Pepper celebrates a birthday party with its human family, for example, the robot will notice emotional moments like singing the birthday song and blowing out the candles – those big emotional moments will be recorded and sent to the cloud. Small emotional moments, like reactions from watching TV, will be minimized or deleted.
Pepper robots will begin learning human emotion tomorrow when they are deployed at SoftBank's Omotesando and Ginza retail locations. Consumers will be able to purchase their own Pepper from next February for 198,000 yen (US$1,930). A robot-specific app store will also be implemented in the future.
SoftBank invested in French robotics firm Aldebaran, the company that designed Pepper, in 2012. SoftBank allegedly paid US$100 million for the more than 80 percent stake in the company, in addition to US$50 million to accelerate research and development.
Aldebaran CEO Bruno Maisonnier joined Son and Pepper onstage to explain why the robot was designed to roll instead of walk. He said that bipedal robots tend to have a battery life of 30 minutes to one hour, while Pepper's battery ought to last for more than 12 hours. The company will host a festival in September where it will distribute Pepper's SDK to developers.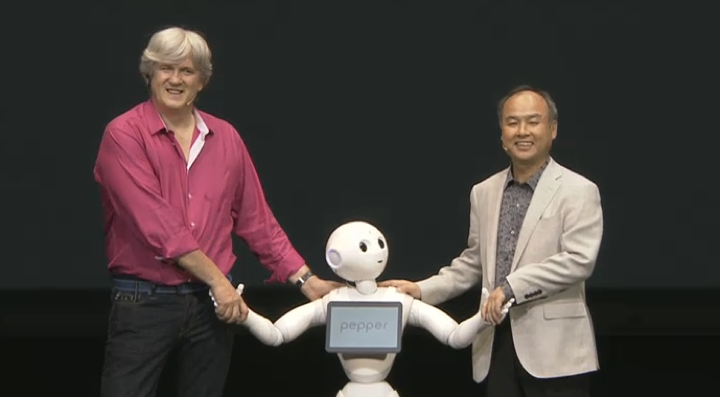 "[Son] believed in our vision and has given us wings to fly faster on our chosen path," Maisonnier said. "I believe that the most important role of a robot is to be a companion to people, enhance daily, life and help them grow."
 Terry Gou, the founder and CEO of Foxconn, was also in attendance at today's event to confirm that his company would manufacture the robots.