Japanese telco Softbank has completed its $21.6 billion acquisition of 78 percent of Sprint, beating competing offers from Dish for the US mobile telco. The acquisition by Softbank (TYO:9984) looks to have catapulted the telco into the US market, placing it on the global map. Sprint (NYSE:S) will continue to be headed by current chief executive Dan Hesse.
(Update: A press release was sent to us here. The $21.6 billion is split between $16.6 billion which will be distributed to Sprint stockholders and $5 billion which will be invested as new capital to Sprint's business. Masayoshi Son, founder and and CEO of Softbank will serve as Chairman of Sprint's board of directors.)
Masayoshi Son, the founder of Softbank, told Reuters that he has a "secret weapon" to revive Sprint. He claims that this secret weapon will be in the form of an innovative service and it will be in the first in the world.
Son also said that this Sprint acquisition deal will "generate annual savings of $2 billion in the first three years and $3 billion per year thereafter" for Sprint as it now has more bargaining power to get discounts from network equipment and phone markers.
"This transaction provides an excellent opportunity for Softbank to leverage its expertise in smartphones and next-generation high-speed networks, including LTE, to drive the mobile internet revolution in the world's largest market," said Son back in October when the acquisition deal was first announced in Tokyo, Japan.
3rd biggest telco company in the world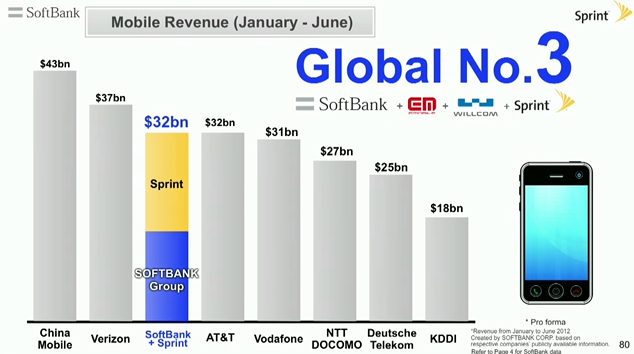 The combined revenue of Softbank and Sprint from January to June 2012 is $32 billion, which makes it the third largest telco in the world by revenue. Back in October, Son also noted that Softbank has success in turning acquired mobile businesses and helping them grow rapidly by introducing differentiated products and innovative services in each local market.
"Our track record of innovation, combined with Sprint's strong brand and local leadership, provides a constructive beginning toward creating a more competitive American mobile market," he said last year in Tokyo.
Like many successful entrepreneurs, Son is known for being aggressive and ambitious in business. This $21.6 billion acquisition is perhaps Softbank's largest acquisition deal so far. Local rivals Docomo and KDDI will observe keenly how well Softbank can expand in the US.
(Editing by Steven Millward)