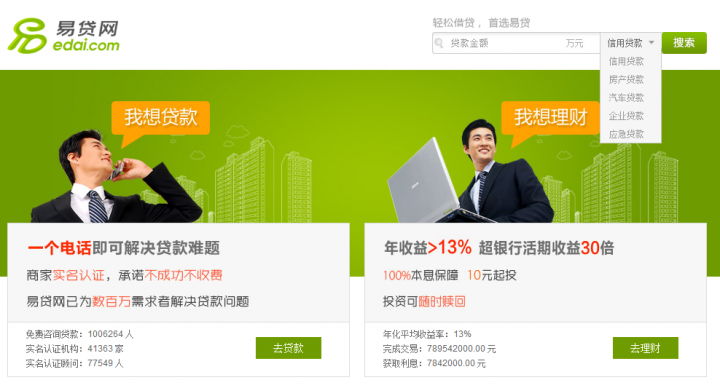 There's no shortage of peer-to-peer lending sites in China, but neither has a distinct market leader emerged.
Sina Tech reports Softbank China is getting in on the action with an estimated US$10 million investment into financial services company Edai. In addition to the P2P lending service that it launched this year, Edai offers traditional loans and free loan consultation. The Chengdu-based company was founded in 2006 and now exists both online and has brick-and-mortar offices in China.
Edai has settled nearly 200,000 loans to date, ranging from car to emergency to real estate to credit loans, and it's given more than one million free consultations. Its P2P lending service has lent more than RMB 300 million (US$48 million) so far despite being less than half a year old.
SoftBank's (TYO:9984) other notable investments in China include Alibaba, Renren, InMobi, and 117go.
See: P2P lending service Renrendai handed $130 million to get a head start in China's budding microfinance sector
China's P2P lending space consolidating
China's P2P lending industry exploded in recent years due to the high barrier of entry for average people to get loans from state-owned banks. But the sector has been plagued with high default rates and fraud. Because credit ratings are not available to the public in China, private lenders have to vet their borrowers personally. This means responsible lenders have to hire huge risk management teams that investigate each borrower, even calling up family and friends to make sure alibis corroborate.
But in a rush to get in on the lucrative opportunity, not all lenders were so thorough. Over 100 P2P lending sites have absconded or went bust in recent years, with an estimated US$110 million lost in under half a year. China's leading search engine Baidu even removed links to more than 800 such sites from its search results until it came up with a system for only listing reputable lenders.
Now the P2P lending market looks to be gradually consolidating, and SoftBank's investment in Edai shows it's serious about being a top player. It's still up against a host of other sites, though, including Wangdaizhijia, PPDai, Dianrong, and Renrendai.
(Source: Sina Tech)