SoftBank founder and CEO Masayoshi Son took the stage at SoftBank World 2014 this morning to share his revolutionary ideas for reversing Japan's declining economy. If you've been following SoftBank recently, it should come as no shock that one of Son's proposed remedies is the implementation of a robotic workforce. He also stressed the importance of utilizing existing technology – smartphones, tablets, and cloud computing – to gain an edge over the competition.
"Japan used to be a 'sunrise' country, but for the last 20 years or so there's been an image of a sinking country," he told the audience. "Thanks to Abenomics, there is an atmosphere of economic recovery. However, when it comes to GDP, Japan is now number three. India and other countries are catching up to us very quickly."
Son explained that the shrinking domestic labor population, an effect of the concurrent aging and shrinking of the Japanese population as a whole, is a major contributing factor in the economy's decline. He said that Japanese companies must utilize the "information big bang" while "weaponizing" productivity.
"In the past, we've been stingy with memory capacity and connectivity speeds – we will soon have infinite amount of [both]," Son said. "All of this data and information will be stored in the cloud. The work style of people will fundamentally change."
The SoftBank CEO quipped that his company was the first to provide smartphones, tablets, and cloud access to 100 percent of employees. He added that SoftBank provided iPhones to its entire staff even before Apple and urged those in attendance to propose such measures at their own companies.
Son said that, within SoftBank, per employee productivity doubled between 2009 and 2014 due to the implementation of these three technologies, as all other Japanese companies saw productivity decline.
He also pointed to a pivotal point in Japan's feudal past – the shift from swords to firearms during the Sengoku Period – ushered in by samurai warlord Nobunaga Oda.
Oda unified Japan because he implemented guns earlier than anyone else.
Historical events that change the world are triggered by someone leveraging these advanced technologies at the right moment in time.
He also announced that the company has partnered with VMware for cloud management and GE for industrial internet. GE CEO Jeffrey Immelt delivered a video message expressing his excitement to be working with SoftBank:
"The global economy is driven by great entrepreneurs. I lead a 100-year-old company that was once led by Thomas Edison, and I look at Son san as one of the great leaders in the world."
Robots to the rescue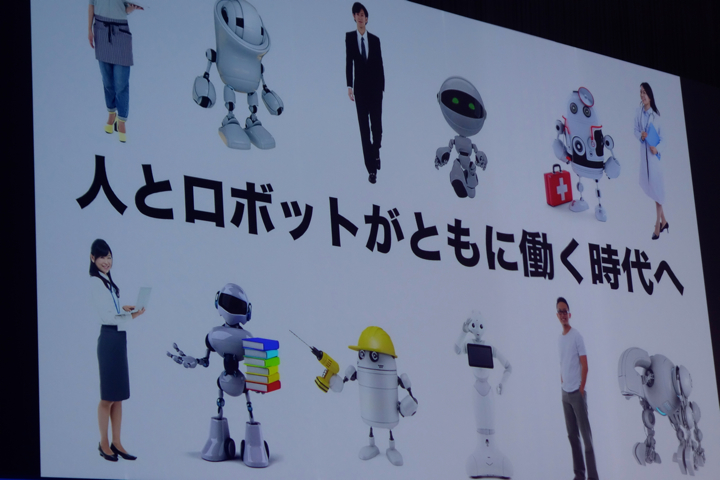 The second half of Son's keynote focused on his truly revolutionary vision of a country saved by robotic workers.
"The audience may laugh, but we need to be serious about these dream-like solutions," he said. "If even one percent believes [in robots], this will become a success."
See: SoftBank unveils Pepper, an emotional robot that will be sold to consumers next February
He said that Japan needs "generic, cheap, high performance" robots that can be utilized in a variety of working environments. He also said that 100 percent of them must be connected to "cloud AI."
Son was joined on stage by the company's so-called emotional robot, Pepper, which told the audience, "I believe I'm going to be working with all of you." Son compared the shiny white robot, which will be sold to consumers beginning next February, to early personal computers.
If you want state-of-the-art tech, you could buy a smartphone or a tablet. But this time around, you can be the first to get a robot. When the PC was new, it was like a toy. It wasn't so advanced. Today, we can't live without PCs. Now is the time for Pepper to be the very first personal robot.
According to Son, putting Pepper robots in SoftBank retail stores, like the one in Tokyo's posh Ginza district, has driven up foot traffic by 87 percent. More importantly, he believes that manufacturing robots can boost Japan's labor force (currently around 65 million strong) to over a billion – even more than current leader China's nearly 800 million.
While the idea may sound crazy to most, Son points to the burgeoning idea of "digital natives" – children who grow up with advanced technology and thus avoid getting hung up on progressive developments.
"Digital native people are born into digital tech, even at age zero they know what to do," Son adds. "My granddaughter knew at less than one year old how to swipe an iPad to see the next photo. [During childhood] it will be important for them to converse with robots and it will become natural for them to live with robots at home."
See: Cute or just creepy? 5 of Japan's most human-like talking robots