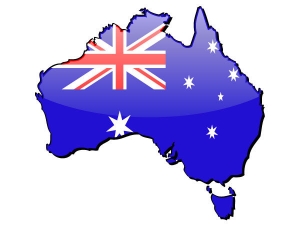 A recent report released by comScore, Inc. on The State of the Internet in Australia reveals that Social Networking accounts for 1 of every 5 minutes spent online in Australia.
The study, which looks at the latest trends in digital consumer behavior in Australia was presented at a comScore-hosted industry event in Sydney.
Social networking activities account for 22% of the total time spent online had increased by 5.3% from the previous year.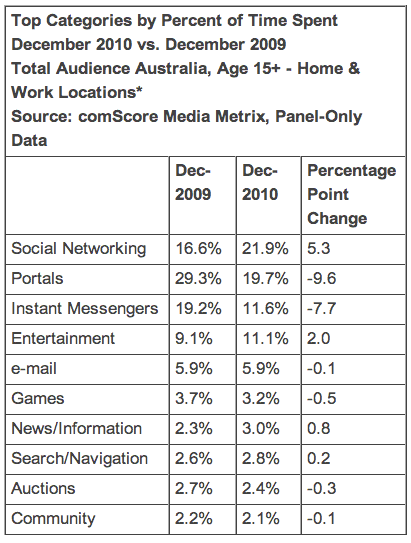 *Excludes visitation from public computers such as Internet cafes or access from mobile phones or PDAs
Additional insights from the report include:
In December 2010, Microsoft Sites led as the most-visited Internet property in Australia, followed by Google Sites and Facebook.com. When looking at the top sites by total minutes spent, Facebook.com assumed the #1 spot followed by Microsoft Sites and Google Sites.
More Australians visited Retail sites compared to last year, outpacing increases in the global average. Amazon and Apple led as the most-visited retail destinations.
Group-buying sites continued to gain traction over the past year. Cudo, an MSN property, currently leads the space with 418,000 unique visitors in December 2010.
3 out of 4 online users in Australia watched online video in December 2010, with an average viewer watching more than 7 hours of video during the month.
Nearly 12 million Australians conducted an online search query in December, with an average searcher performing 115 queries. Google Sites accounted for 80 percent of searches in December.
Whether its for leisure or business, social media is playing an increasingly prominent role in Australians' digital lives.
Will Hodgman, comScore executive vice president for the Asia Pacific region said, "2010 was dynamic year for the digital media industry in Australia. Consumers are turning to the Internet with increasing frequency for a vast array of activities including entertainment, commerce, news & information and communication, as digital media becomes embedded in the daily lives of Australians. Look for 2011 to be another year of continued innovation and increased competition as brands vie for consumers' attention in this rapidly fragmenting digital environment."
You can download a copy of the State of the Internet in Australia here