We're a big fan of civic-minded startups here at TechinAsia, though we don't find that many of them. Thankfully a lot more will be blossoming soon at the upcoming Social Innovation Camp Asia 2013.
Before we hear from organizer Andrew Tan about last year's event and the kind of issues he wants to see startups tackling, these are the multi-country dates set for SI Camp Asia so far this summer: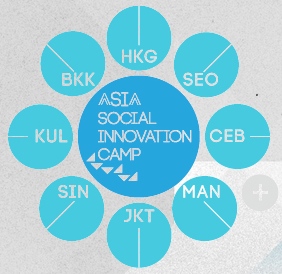 Bangkok, August 16 to 18 – with ChangeFusion and The Sync as partners
Jakarta, August 30 to September 1 – with GEPI
Manila, September 13 to 15 – with WebGeek
Seoul, October 4 to 6 – with How2company
Cebu and Kuala Lumpur are not yet set
As my Philippine-based colleague noted earlier today, SI Camp Asia is now taking submissions for civic startup ideas at its various city events.
Last year's event saw six great ideas emerge from all across Asia. The eventual winner was Thatapp, which aims to help answer teens' questions about sex. Sadly that app has not launched in the eight months since the event, something that raises the issue of civic startups who fail to tackle the issue at hand, perhaps due to a lack of funds or because it's a side-project for those involved.
Seeking ideas across Asia
Last year the global SI Camp held only one event in Asia – and that was in Kuala Lumpur. So this year marks a big expansion for the program to eight cities in seven countries. Andrew Tan explains:
Last year was actually to set the foundation for this year. This year we wanted it to be held in different cities across Asia so that it is more accessible to people. We are still going to have a regional camp (SI Camp Asia) where we will bring the top teams from each of these local camps to Singapore.
Andrew encourages the do-good startups to think of issues seen in their particular country and to tackle those head-on:
I have always liked the saying "Think globally, act locally". So startups should be focus on tackling issues that they either have experienced before, are affected by, or at the very least see everyday in their local environment. This is important because only by having first-hand experience of a problem can a startup have the insight to take the right first step, the drive and passion to go through the ups and down that any startup faces, and the sustaining energy to advocate for the issue that they are helping solve.

Also since a lot of the countries in Southeast Asia face similar issues mainly due to the fact that the infrastructure for things such as education, healthcare, and so on, are still under-developed. So the local solutions startups come up with will usually be adaptable to other countries.