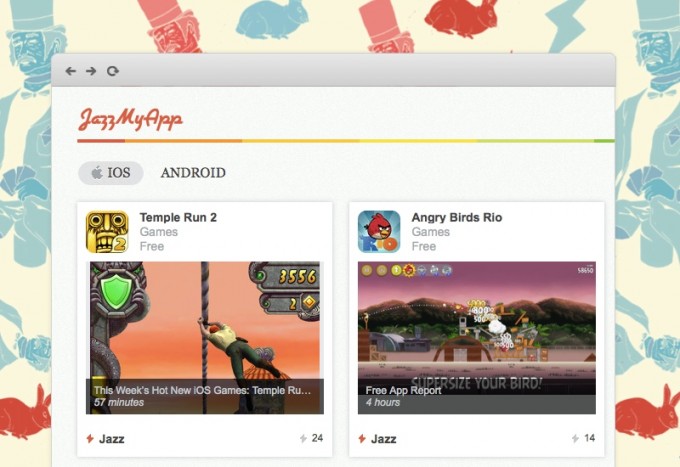 Malaysian startup Mobile9 has been trying to solve the app discovery issue for quite a few years. Now it's launching JazzMyApp as a dedicated and highly social way of finding new apps for iOS and Android.
The Kuala Lumpur-based team describes JazzMyApp as a Pinterest for mobile applications, and indeed the interface does borrow heavily from the popular social pinboard site. But instead of hearts, users can single out awesome apps with a "jazz". To make it easier to add recommendations, the site uses a combination of a Facebook login and a bookmarklet for your browser, so that you can fire off a recommended app straight from an app store page or website, and JazzMyApp will post it. Other users can follow you, like your choices, and even "re-jazz" them.
Patrick Ooi, the founder of Mobile9, tells us that JazzMyApp stands out by being able to pull in some choice apps directly from top tech blogs like TheNextWeb and Mashable. Patrick explains his angle on app discovery:
I think it's really comes down to which service can recommend the most relevant recommendation to the users. If we recommend ten apps and the user downloads five, then JazzMyApp is successful. For the first release, we're betting on the blogs and users for the recommendations. Once we get more data, we'll be able to crunch them and deliver better recommendations.
The top pick on the site right now is the brand-new Temple Run 2, so JazzMyApp seems to be working well as a way to highlight an amazing new app that many people wouldn't have realised is out if they're not regular tech blog readers.
For now, the new apps site is focusing, quite inevitably, on just Android and iOS. But Patrick says that the team has plans to support more mobile operating systems like Windows Phone and BlackBerry pretty soon. He adds that building a user-base is the objective right now: "At this stage, monetization isn't the focus, so we're only monetizing via ads."
We've seen quite a few startups in Asia have a go at social app exploration these days, such as Japan's Peepapp, and the Singapore-made Applorer Gamebox.