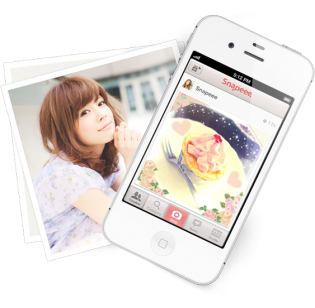 Readers may recall last year when we wrote about Japanese photo app Snapeee, which was developed by Mind Palette and funded by CyberAgent Ventures. The service has just released version 2.0 of its app, adding some interesting new features.
Project manager Tetsuya Itoh tells us this morning that Snapeee has been downloaded more than a million times so far, and they figure that about 70 to 80 percent of that total are women, with most users coming from Asian countries. Snapeee's new design looks to be a little more female-centric, and I'm told that it's going after the demographic of women aged 18 to 25, who they hope can then influence other demographics. It also hopes to expand further into Asian markets.
And with this version come a few new features, including new photo sizes (3:4, 1:1, 4:3), and the ability to tag your photos. Snapeee has also introduced activity points which are given when users are more active, posting photos or recommending photos. There are also photo decoration items which can be obtained using points, which are different than the ones you can get via in app purchase.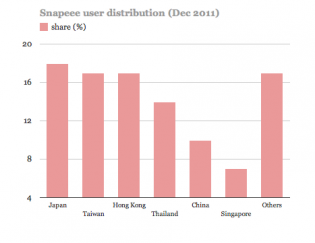 Also new in version 2 is the added ability to share photos to Chinese social networks Sina Weibo and Renren. Indeed the application seems to be quite popular in regions where you'd find Chinese speakers, as support for both traditional and simplified Chinese was added in June of 2011, soon after its initial launch. As you can see in the chart below, Taiwan and Hong Kong are also fond of Snapeee – although I'm told that Thailand has since surpassed Hong Kong. Other markets where it is doing well include the US, Korea, and Mexico to name but a few.
Snapeee reportedly received investment of about 100 million yen (or about $1.25 million) last November from GREE and Itochu Venture Technologies.
If you'd like to try Snapeee, you can get it on the Apple App Store or over on Google Play.