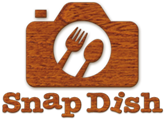 Snapdish, the photosharing app for food lovers, is now coming to the Kindle Fire along with broader language support across all its platform releases. The app allows users to share food photos and recipes with other foodies. Vuzz released the app in May of 2011 and it has since been downloaded over 700,000 times across 82 countries with over 1.9 million photo posts so far.
With 30 percent of Snapdish's downloads outside Japan, Vuzz wants to offer more support to non-Japanese users. It has just added seven new languages to its app, bringing the total to 11. Now users who speak Thai, Indonesian, French, Spanish, Italian, German, and Portuguese will be able to use it too. Previously, the app only supported English, Japanese, Chinese, and Korean.
Releasing on the Kindle Fire is also a significant move for Snapdish, giving it a potentially big boost in North America. Amazon's Kindle Fire has shipped nearly eight million units, by some estimates, and has snagged 33 percent of the Android tablet market in the US. By putting Snapdish on the Kindle Fire, Vuzz hopes extend its reach further into the Android tablet market. This makes sense given the fierce competition from apps like Foodspotting, Evernote Food, and other big players.
You can download the app from the Amazon App Store, and it's available on iTunes and Google Play as well.