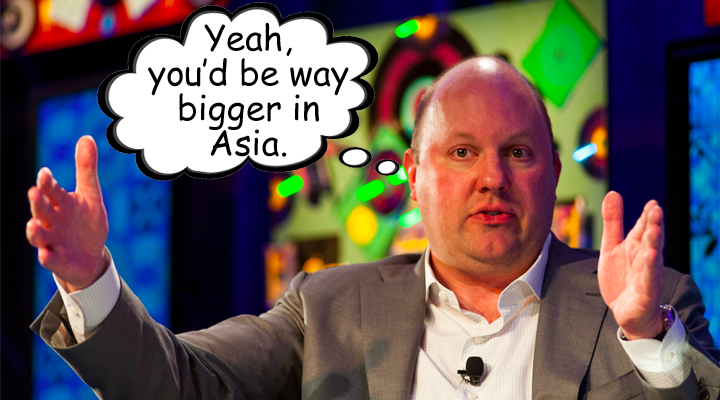 Last week Marc Andreessen, former co-founder of Netscape, had an interview with the Wall Street Journal, and although most tech blogs are bawling over the potential billions that these companies can be worth, they've totally overlooked an underlying point that Andreessen made.
First, let's take a look at the quote I'm referring to:
The bull case on Snapchat is that there's a company in China called Tencent that's worth $100 billion. And Tencent is worth $100 billion because it takes its messaging services on a smartphone and then wraps them in a wide range of services—things like gaming and social networking and emojis, and video chat—and then charges for all these add-on services. And it has been one of the most successful technology companies of all time and is worth literally $100 billion on the Hong Kong Stock Exchange. Maybe that's [CEO Evan Spiegel's] plan. Maybe Evan's plan is to transplant the Tencent business model into the U.S., which nobody has actually been able to do yet.
But Andreessen may not realize that Tencent (HKG:0700) has hundreds, if not thousands, of holdings besides WeChat. Tencent's QQ brand, which first appeared in 1999, is the company's bedrock, covering 818.5 million monthly active social accounts and lots of customers who pay for extras and gaming features. Tencent also has a huge gaming arm, a search engine, a third-party payment system, and more. And Tencent doesn't just "charge for add-on services." Most of that stuff is free on WeChat. Tencent doesn't have one business model. It has dozens.
Whether or not Evan Spiegel will take this route is hard to say. The key here is Silicon Valley continues to watch Asia for business models that are viable. Marc Andreessen isn't a nobody. He is the co-founder of Netscape, the key foundation of web browsing for the entire internet, and also sits on the board of directors of eBay, Facebook, and Hewlett Packard. Without a doubt, he's a thought leader of the Valley.
This isn't the first time Valley thinkers are looking at Asia for business models that work. I've written before how freemium is basically a model that originated from Asia because of consumer bases that didn't want to pay for software or apps. How much are these Silicon Valley giants looking to Asia for inspiration? Last week in Ho Chi Minh city, Joe Lonsdale said, "once something gets interesting, you just fly over and learn from them and fly back."
(Editing by Paul Bischoff)