SMSGyan is an SMS-based search engine which provides on-demand instant information on any mobile phone in India. Developed by the young team at Innoz, SMSGyan (Gyan means "knowledge" in Hindi) had a unique beginning – it started from a college dorm room.
The product has been doing well recently, especially after it partnered with leading Indian teleco Airtel in the form of Airtel SMSGyan. Speaking to Penn Olson, the CEO of Innoz, Mr. Deepak Ravindran, said:
We tied up with Airtel some time back. And guess what, the response to SMSGyan has been tremendous with more than 1.5 million users – that happened in just about a hundred days.
Gaining 1.5 million users in such a short period of time isn't easy for any mobile service, so it can be said that SMSGyan has had a decent start. The viral growth is owed to Airtel's vast user base of more than 167 million subscribers, but the product itself still has to be substantial to sustain it. Here's my analysis of SMSGyan:
---
How is Airtel SMS Gyan different from Google SMS Search?
---
SMSGyan is totally SMS-based – you can not only send a search query through SMS, but can receive the answer via SMS as well. A point to be noted here is that the SMS will contain the exact answer to the query. So, if you searched for "Who is the Prime Minister of India?" the reply will contain "Manmohan Singh." You can query Airtel SMSGyan by messaging your search term to 55444. This can be accessed by Airtel users only – others will have to use the WAP site for now.
Google SMS Search does not have this functionality. With it, you can send an SMS to 9-77-33-00000 to query something, but the SMS response will not have the exact answer, but will have a link which will lead to the search results. To open up the link, you need to have a phone with a WAP connection.
Deepak's take on the difference is short and crisp. He summarises:
Google SMS is a search engine where you get a link to click on to find the result. SMSGyan is an answer engine, pointing to the exact result in an SMS.
Secondly, SMSGyan gets the better of Google SMS Search for some simple search queries I tried on their demo sites. So, when I queried about the Indian PM through SMSGyan, the answer came out to be correct (see the right-hand screenshot below).
While the same query using Google SMS Search, showed the following piece of text mentioning India's previous Prime Minister, Atal Bihari Vajpayee (see the left-hand screenshot below).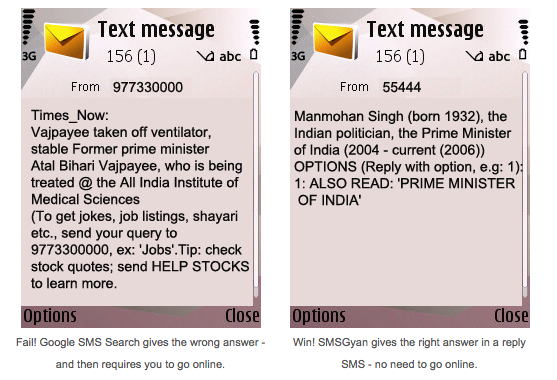 A similar thing happened for some other keywords I tried. It seems that Google SMS Search isn't that effective as its parent web search engine Google, and the company needs to take a hard look at it.
SMSGyan's search capability, meanwhile, proved effective most of the times I tried – but true feedback can only be provided by the product's users.
---
SMSGyan is aimed at the masses – on any handset, no need for internet.
---
So, giving the direct answer without the need for the internet – no WAP, GPRS, 3G, or anything required – is the key. For this innovation, Deepak has also been hailed as one of the top innovators in India under 35 by Technology Review, a publication of MIT.
One must remember that this service is not free, and costs Re. 1 for each SMS search. You can alternatively subscribe to Airtel SMSGyan for Rs 30 per month. New users can SMS "HELP" to 55444 to know what kind of keywords to send for a better search.
SMSGyan supports picture search and video Search through GPRS as well, which will point you to a weblink to download the picture. Deepak stressed the fact that SMS remains the primary interface of SMSGyan, and the weblink feature is only for those who want to search for multimedia content on their mobile phones.
Deepak and his team at Innoz are having discussions with other major telecoms companies to launch SMSGyan on their platforms – the number being the same for all providers. Backed up by some renowned investors, SMSGyan looks at capitalising on the high penetration rate of mobile phones in India. I'm sure that they'll be getting many more takers for their product, especially after their runaway success with Airtel.