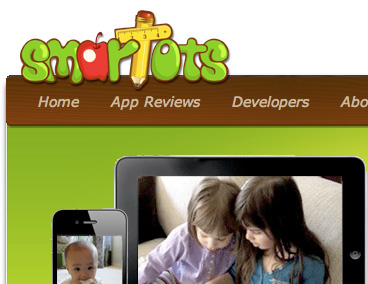 We first heard about SmarTots during the Global Mobile Internet Conference (GMIC) in Beijing last week. The pitch delivered by co-founders Jesper Lodahl and Victor Wong was really impressive. The crowd loves it.
SmarTots is a Beijing based start-up that tracks how a child is interacting and learning through iPhone and iPad applications. Using the activity data, SmarTots provides reports for parents which includes:
Child's learning progress, interests, strength and weaknesses
Recommended educational applications based on age and interest
Recommended offline family activities
As far as we have seen, SmarTots is an elegant answer to a question that most modern parents are pondering: How can I use iPad and iPhone applications to help with my child's education.
"The idea came about to help solve the real-world problems that we were facing with our kids. Both Jesper and I have kids that love the iPhone/iPad and we saw their potential as a educational devices. But we also struggled to find appropriate apps for our kids and understand what are kids were actually learning," explained Wong when asked what inspired them to create SmarTots.
Tracking these activities is possible as educational app developers integrate SmarTots's SDK with their apps to allow SmarTots to track kids' activity within the app. Wong also said that it only takes 10 minutes to make a mobile application SmarTots-enabled.
SmarTots was launched in a closed beta near the end of 2010. Within the first four months, it already has over 200,000 downloads of SmarTots-enabled apps. Wong also explained that SmarTots has three sources of revenue: commissions from developers, premium features of parent, and affiliate revenue from iTunes.
"We are already generating some small revenues from the iTunes' affiliate program, but are not focusing on revenue right now," he said.
The SmarTots founders are also experts in their field. CEO Jesper Lodahl has 12 years of experience in the mobile and Internet industry and has spent seven years doing business in China. In his time at Nokia, he developed four phones from concept to delivery and created two patents which have been implemented in more than one billion mobile phone worldwide.
Meanwhile, CTO Victor Wong has 16 years of experience in web and e-learning software and five years experience as entrepreneur. Wong was also the founder of Speak2Me, the largest English language learning social network in China, which was acquired by Lingo Media in 2007.
SmarTots is driven by people who seriously know their stuff. With great idea and an inspired team, we shall see how SmarTots could make an impact in the educational industry.