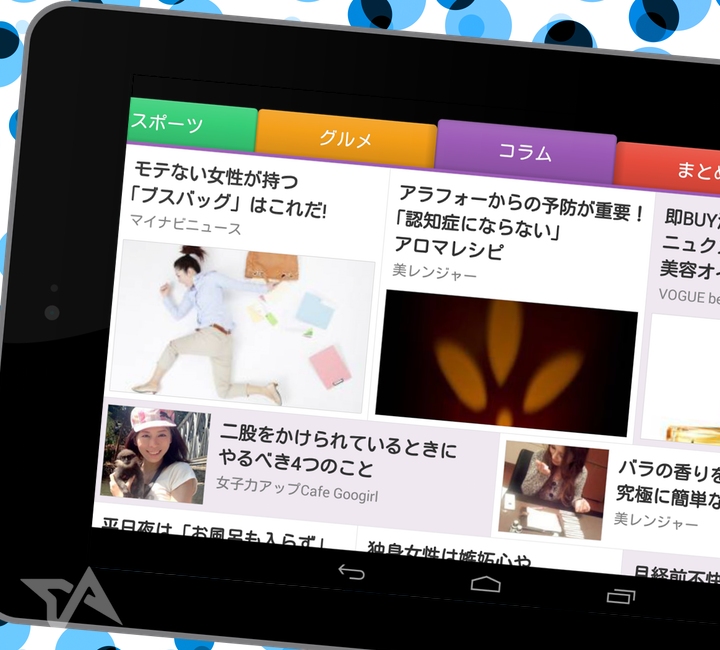 There are tons of mobile news reader apps out there, though Flipboard gets most of the attention. To stand out in the crowd, an app needs to specialize or localize well. That's the case with SmartNews in Japan. The Japanese-only app not only focuses on its home nation but it's also distinctive in being tied closely to Twitter.
SmartNews mines millions of Twitter stream data and picks up thousands of hot topics. Then it sorts them into the categories you see in the app's colorful tabs. It comes with apps for iOS and Android. SmartNews also has a dedicated channel for selected media, and that's now packed with content from 102 media outlets. This week the app signed a deal with the huge Yomiuri Shimbun newspaper to add a Yomiuri Sochi Olympic News section to SmartNews during the upcoming Winter Games.
The SmartNews team revealed today that 75 percent of its downloads are now monthly active users, and 38 percent of them use the app daily. While the startup declined to give a specific monthly active user number, we can deduce from its more than three million downloads [1] in October that it has over 2.2 million active users right now.
The app launched in December 2012, which was a few months after Flipboard rolled out its Japanese edition. While Japan is one of Flipboard's top eight countries, there's still plenty of room for rival apps and mutual growth amidst Japan's massive smartphone user-base.
SmartNews got $4.2 million in funding last August to help it grow.
If you read Japanese, SmartNews is free for iOS and for Android.
---
Remember that download figures for free apps are meaningless, hence our focus on monthly active users (MAUs).  ↩