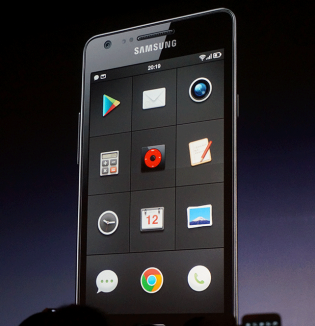 Yesterday, China's Hammer Technologies announced a new mobile operating system called Smartisan OS. At a big, showy press conference that ironically looked a lot like some of Apple's announcements, CEO Luo Yonghao hyped the system, saying, "Our objective is to kill off Apple eventually," and promising that the company would launch its own handsets as well to complement the OS.
The news has gotten a lot of attention in the Chinese press, mostly because Luo is a well-known figure (he's the founder of Bullogger and also a well-known English teacher and author), but has also attracted attention from the English-language press (like Atlantic partners Tea Leaf Nation) because it seems to have echoes of China's state media attacks on Apple.
In actuality, though, as an Android ROM, Smartisan OS is not particularly unique. Many Chinese companies have released their own Android ROMs (the best of them is probably Xiaomi's MIUI). Nor does it really resolve any of China's concerns about its reliance on foreign operating systems, because as an Android ROM, Smartisan is still Google software at its core. (Related: Why China can't make its own mobile OS.) For all the bluster about Apple in the state press, Google and Android is what the Chinese government is really worried about when it comes to the world of mobile. After all, Apple users make up just 12 percent of China's smartphone market. Android users, in contrast, account for 86 percent of it.
So why is Smartisan CEO Luo talking about Apple? One word: hype. Like it or hate it, just speaking the company's name gets attention. And in fact, Luo is just following in the footsteps of Xiaomi, China's most successful Android-based OS developer. As you may recall, in the days leading up to Xiaomi's first handset launch, Apple's name came up repeatedly. First, Lei Jun talked about how everyone was waiting for Apple founder Steve Jobs to die and then after Jobs actually died, the official Xiaomi weibo account tweeted a tasteless joke about him. The company later denied that Lei had actually made the aforementioned comment about Steve Jobs and the employee responsible for making the inappropriate joke on weibo was disciplined, but the incidents got Xiaomi a fair amount of attention, and there's no such thing as bad publicity.
Luo's approach with Smartisan seems, in a lot of ways, to be inspired by Xiaomi. But can it capture the attention of the Chinese smartphone-buying public? The launch event got a lot of attention, but it seems like very little of it was positive. In a front-page poll conducted by Sina Tech with more than 11,000 respondents as of this writing, for example, users overwhelmingly responded to the Smartisan reveal with apathy or total disinterest. For example, one of the OS's main selling points is meant to be that it's uniquely designed to fit Chinese users' lives and habits, but when asked what they thought of the OS after the event, here's how Sina Tech's readers voted:
(Note that Sina Tech's poll is ongoing and as such these results may change over time as more readers respond.)


When asked if they'd give the OS a shot, most users were similarly dismissive or hesitant:
And even fewer people were interested in Smartisan's announced hardware:
Which just goes to show that all the hype in the world is no replacement for a solid product. Whether Smartisan OS is solid or not remains to be seen — it will be released in beta this June — but from what we've seen so far, it seems many observers have come away unimpressed. I must say I count myself among them, as while I'm generally a favor of clean, stripped-down aesthetics, I think Smartisan has taken things a bit too far. I may not be the mobile OS's target demo, but I'm guessing Sina Tech's readers are, and it looks like they're not ready to bite this hook yet, either.
Update: This post was updated on Sunday to correct a translation error in the first chart; "Seems like a copycat" was changed to "Too easy to copy."