It seems that having your games copied and stolen by another developer is becoming a more regular thing nowadays. We looked into Indonesian Flash-based game Chase Burger a few months ago when it was copied and turned into iOS and Android apps under a different name by a rogue developer – and this time a similar fate has befallen another Indonesian Flash game called Bar-B-Que. The game was built by Indonesian game devs SmallFarm Studio in 2009 and a suspiciously similar game named Prime BBQ on iOS and some Android app stores.
Tandyo Kurniawan, the Bar-B-Que project manager, said that he found the stolen game while he was doing his routine check-up of the top 200 games on the App Store. The game, Prime BBQ, that he found used a very similar icon to his game, and when he installed it, the iOS game looked exactly the same as his browser game creation, but without the logos of SmallFarm Studio and the game's sponsor.
Check out the game screenshot comparisons provided to us by Tandyo: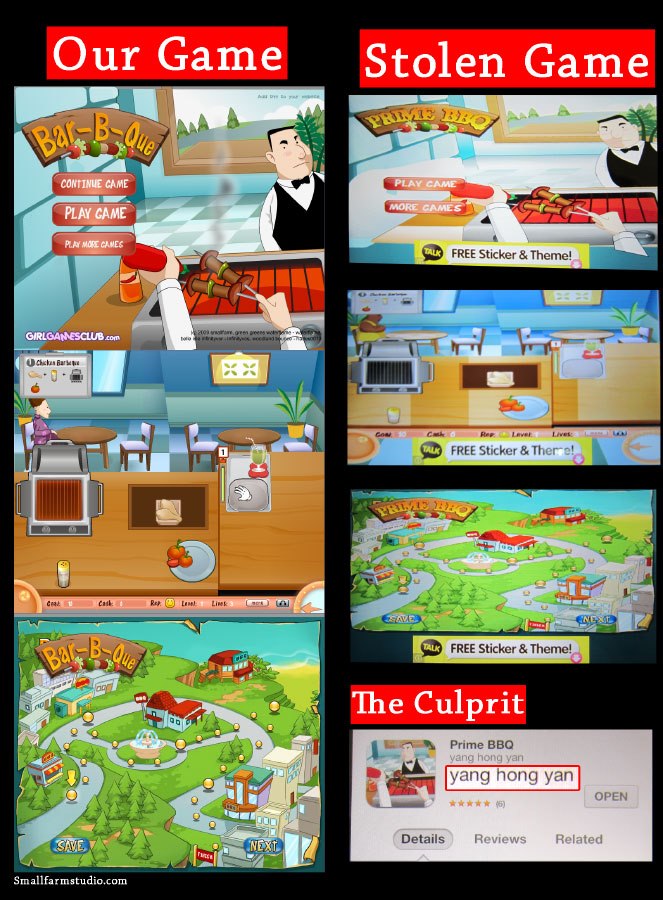 At the moment, Tandyo has made all the necessary reports to the Apple App Store and is looking to contact Google about the Android version of the ripped off game. It should be noted that while the Android version isn't available on Google Play, it is still available on several third-party app stores.
It seems that the culprit behind this incident uses several aliases. In Apple's App Store, the developer's name is Yang Hong Yan, while in various Android markets, the developer is either Feel Game (1) or Randy Game. Those three aliases published the game around the same time at the end of October last year. There isn't much information that we can find regarding the latter two aliases, but the Yang Hong Yan name, if that's even his real name, has published other games like Jail Escape and Gangster War.
This is the third Indonesian Flash-based game copied and stolen in the past year. Besides the afore-mentioned Chase Burger, Toge Productions' award winning browser-based game Infectonator 2 had also been copied and ported onto Android. It is always a bummer to see these kind of things happen in the gaming world, but when it happens, we will do our part to make sure the news stinks as much as possible.
SmallFarm Studio's game itself can be played for free here.
---
It is understood that Android Informer has taken down the Android game from its store before being reported by Tandyo.  ↩