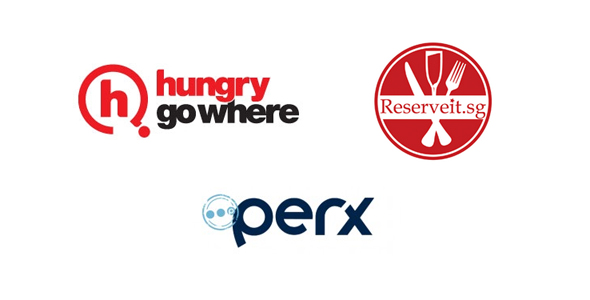 Imagine reading a restaurant review on HungryGoWhere, then booking a table on Reserveit.sg. Once the reservation is done, you get a notification on Perx saying that you've received a chop, which allows you to redeem a dessert.
It's a foodie's dream come true, and we might not need to wait too long for it to happen.
The foundation is already set. We've learnt today that SingTel-owned HungryGoWhere, Singapore's leading food portal, has partnered with mobile loyalty startup Perx (which has over 700 locations and 400,000 chops so far) and restaurant reservation service Reserveit.sg to integrate their services into the site.
The team behind HungryGoWhere is also involved with inSing.com, SingTel's very own lifestyle portal. So Perx and Reserveit.sg will get visibility on inSing too. In addition, Perx will see action on TableDB, HungryGoWhere's very own restaurant reservation service.
Details are scant on how this interconnecting web of services will manifest itself in the coming months — we're seeking more details from the startups involved. In the meantime, it's not hard to imagine the tantalizing possibilities.
Extrapolating from recent developments, we can expect more integration between Singapore's food startups. We've already seen Chope partner with Burpple — could they form their own trifecta with Yelp, which recently expanded into the country?
A young but promising startup on our radar is Hastify, which aims to eliminate the need to wait in line when ordering food takeouts. One of HungryGoWhere's founders, Hoong An, recently became an angel investor and mentor of the company, so a HungryGoWhere-Hastify tie-up is probable.
Other companies to watch out for include food delivery companies like Dealivery and Rocket Internet's FoodPanda, as well as TickTok, an intriguing startup with an app that gives queue times for over 9,000 food places islandwide.
While these companies can choose to build rival services and cross into each other's territories, they could benefit more by leveraging on each other's resources and expertise instead.
Partnerships, especially when regional companies like HungryGoWhere and Yelp are involved, confer startups another advantage: It makes global expansion easier.
Facebook co-founder Eduardo Saverin, a Perx investor and board member, said as much: "The SingTel partnership offers Perx a rapid distribution strategy in Singapore and across the region."
Asian consumers would certainly benefit from the emergence of a super food network — or two.